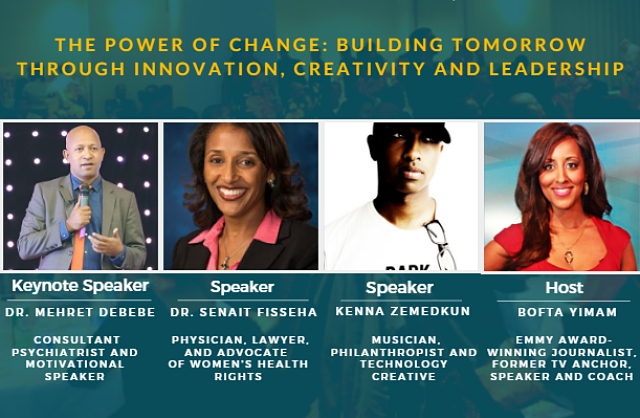 Tadias Magazine
By Tadias Staff
Published: October 29th, 2018
New York (TADIAS) — YEP celebrates its 8th year anniversary this year with a timely and fitting theme, "The Power of Change: Building Tomorrow Through Innovation, Creativity and Leadership."
The professional networking association announced its 2018 annual anniversary gala will be held on Saturday, November 10th at USPTO Madison Auditorium in Alexandria, Virginia.
According to the program, the event will feature guest speakers, music, dinner and a range of activities hosting over 300 diverse professionals. Bofta Yimam, an Emmy award-winning journalist, former TV anchor, and storytelling coach, will serve as the Master of Ceremony. The keynote speaker is Dr Mehret Debebe, a board certified Psychiatrist and Fellow of the American Psychiatric Association, an author, and motivational speaker.
The lineup also includes Dr Senait Fisseha, Director of International Programs for the Susan Thompson Buffet Foundation and Clinical Professor of Obstetrics & Gynecology at the University of Michigan Medical School; and Kenna Zemedkun, an Ethiopian–American musician, philanthropist and technology creative. Kenna's track "Say Goodbye to Love" was nominated for Best Urban/Alternative Performance in the 2009 Grammy Awards, and he is the Founder & Producer of the Summit on the Summit clean water initiative in partnership with Justin Timberlake.
"YEP is a community of diverse professionals who strive for growth, excellence and success," the organization notes on its website. "The mission of YEP is to inspire, educate and empower the Ethiopian professional community to make a positive impact in the world and envisions a strong community that shares ideas, skills and resources to enrich lives. Founded by Ethiopians in 2010, YEP is a non-partisan and non-religious organization, that began by featuring inspirational speakers, hosting educational sessions and providing networking opportunities to support our mission."
The announcement adds: "Proceeds from the 8th Year Anniversary Celebration will go directly to support YEP's mission of supporting newcomers, providing mentoring to high school and college students, creating a platform for professionals to connect."
—
If You Go:
YEP Eight Year Anniversary Dinner
Saturday, November 10, 2018 from 6:00 PM to 12:00
US Patent and Trademark Office
600 Dulany Street
Madison Auditorium
Alexandria, VA 22304
Click here to buy tickets
More info at www.yepnetwork.org
Join the conversation on Twitter and Facebook. '