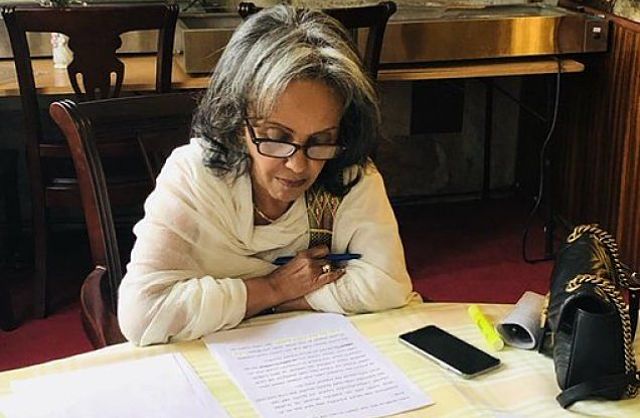 Tadias Magazine
By Tadias Staff
Updated: October 29th, 2018
New York (TADIAS) — "Congratulations Madam President," many tweeted and posted on social media around the world to express their praise and good wishes to Ms. Sahle-Work Zewde, a former senior United Nations official, who became Ethiopia's first female president last week.
"It represents me, it represents young woman and my mom and my sisters," a young lady tells BBC News Africa as the news agency gathered street reactions on Friday in Ethiopia's capital.
The news of Zewde's appointment was announced early Thursday morning in a series of tweets by PM Abiy Ahmed's Chief of Staff, Fitsum Arega, generating immediate global media interest. Fitsum tweeted: "In a patriarchal society such as ours, the appointment of a female head of state not only sets the standard for the future but also normalizes women as decision-makers in public life."
Ethiopia's parliamentary approval of President Sahle-Work Zewde on October 25th also came on the heels of the previous week's equally stunning appointment of a cabinet comprising of 50% female MPs, including at the Ministry of Peace, which controls the country's intelligence agency and security forces.
In her acceptance speech to Parliament President Sahle-Work highlighted the need to uplift women and to shape a "society that rejects the oppression of women." She stated: "I am a product of people who fought for equality and political freedom in this country, and I will work hard to serve them." She added: "If you thought I spoke a lot about women already, know that I am just getting started."
Global reactions on social media shared the enthusiasm of Ethiopians. "Congratulations to Sahle-Work Zewde & to Ethiopians, on your first woman president & new cabinet in which women ministers head key departments," said the Secretary-General of the UN, António Guterres, in his own Twitter post. "The African continent is leading the way in showcasing that women's engagement and leadership are crucial to lasting peace."
UK's Prime Minister Theresa May noted: "Congratulations to President Sahle-Work Zewde on being elected the first female President of Ethiopia – a strong symbol of growing female empowerment in Africa."
And U.S. Embassy Addis chimed in: "Congratulations to Ambassador Sahelwork Zewde on her selection as Ethiopia's first woman President. We welcome her appointment not because of her gender but in recognition of her many years of experience and leadership in public service. No society succeeds by excluding people from participation. We see the Ethiopian government focus on including women in leadership roles as a strong signal of commitment to build an inclusive political system where leaders attain their positions based on their ability to lead."
Yohannes Gedamu, an Ethiopian-American lecturer of Political Science at Georgia Gwinnett College in Lawrenceville, GA, pointed out:
With this appointment, Zewde also became the second woman in the country's modern history to serve as head of state. Ethiopia's last female leader before Zewde was Empress Zewditu, who had governed the country between 1916-1930."…This appointment is unquestionably momentous and groundbreaking…Anyone who serves in that role gets the opportunity to build a personal legacy, and leave their mark in the country's history. The head of state also presides over special parliamentary sessions and delivers speeches on the parliament opening sessions where he or she presents what the priorities of the government should be. Having a woman take over such a revered office is undoubtedly going to inspire millions of Ethiopian women.
Yohannes, whose article is titled 'Ethiopia's First Female President Can Be a Force for Reform,' also emphasized Sahle-Work's final role at the UN as being arguably the most important. "She was the first woman to be appointed by the international body as special representative to the African Union and head of the United Nations Office to the African Union, a role she served at the level of Under-Secretary-General."
Below are photos and related news links:
—
Related:
Who is Sahle-Work Zewde, Ethiopia's first female president? (By Elias Gebreselassie)
Former UN Official Sahle-Work Zewde Becomes Ethiopia's First Female President
The Power of Ethiopia's Gender-Balanced Cabinet
In Ethiopian leader's new cabinet, half the ministers are women (The Washington Post)
Spotlight: Helen Show on Professional Women and Motherhood (Video)

The latest episode of the Helen Show on EBS TV features a timely topic: professional women
and motherhood. The show's host Helen Mesfin speaks with Mimi Hailegiorghis, who is
a Department Head of Systems Performance Engineering at Mitre Corporation, & Tseday Alehegn,
Co-Founder and Editor-in-Chief of Tadias Magazine.
Join the conversation on Twitter and Facebook. '