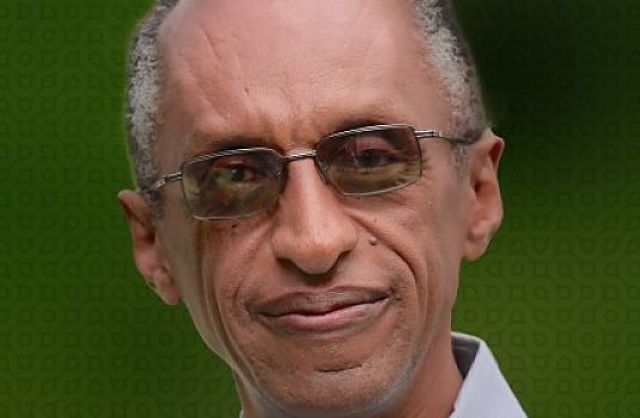 Tadias Magazine
By Tadias Staff
Published: November 5th, 2018
New York (TADIAS) — The Ethiopian Diaspora Trust Fund, which officially launched its website last month, is calling on Ethiopians worldwide to set up local chapters in order to increase and streamline its fundraising process.
"We are mobilizing the Ethiopian Diaspora community globally, not only in the U.S. but also in Europe, Africa and Middle East," says Dr. Bisrat Aklilu, a retired United Nations official who is a member of the trust fund's Advisory Council, in a recent interview with Tadias. "The purpose moving forward is to establish as many chapters as possible wherever Ethiopians live."
"The Advisory Council's job is to mobilize the Diaspora globally so they may contribute to the fund," Dr. Bisrat added noting the transparency of fund's website in particular. "It's a very clear indication of how the fund operates. As money comes in everyone can see who is contributing, big or small."
As of this week the website has raised more than $200,000 and Bisrat said that he is hopeful that with the assistance of the chapters — which are empowered to explore creative fundraising mechanisms like soliciting matching grants and holding events — they will "surpass the million mark" before the end of the year.
"So our job is really to spearhead, but eventually the community has to accept it as their own. They can organize by profession, as a congregation, as family and friends, or they can join a chapter."
Dr. Bisrat also acknowledged that due to complicated prior history Ethiopian Americans in general are rightfully weary of government sanctioned fundraising projects.
"We have to be honest that we have had a previous negative experience of people contributing and not knowing where the money went for the Renaissance Dam," Dr. Bisrat told Tadias. "As noble and as important as it is there should have been really disclosure on how much money came. We have learned from that lesson and that's why are making absolutely sure that we are completely transparent." Dr. Bisrat also pointed out that in addition to being designed in line with "international standards of transparency and accountability" the EDTF online platform includes a "governance and fund flow chart."
As someone who managed the U.N's Multi-Partner Trust Fund Office with an estimated six billion dollar operation Dr. Bisrat shares that there is no "one-size-fits-all" approach to the EDTF chapters. "It depends really how the Ethiopian Diaspora communities are organized," he said.
"For example, in New York, the initiative that was launched felt that for the Tri-State area (New Jersey, Connecticut and New York) we should have one chapter," Dr. Bisrat noted. "There was a group that came together as kind of a welcoming and organizing committee for the visit of the Prime Minister to New York, which unfortunately did not take place. So we had a discussion with that group and felt that we should also broaden it and include a few more members and groups such as churches, mosques, community groups, and edirs." On Sunday, November 4th, the group was scheduled to meet with the aim of establishing a chapter.
The Ethiopian Diaspora Trust Fund came about this past Summer as a response to PM Abiy Ahmed's invitation to all fellow Ethiopians who reside overseas to become part of the solution and to take a stake in the ongoing reform efforts in their homeland. "Diaspora, here is a call to you. A dollar a day to help children get an education; our brothers and sisters, fathers and mothers get health service; and above all, consider this as 'paying back' to your people who gave you future while they had no one," said PM Abiy Ahmed in a televised comment while defending Ethiopia's 346.9 billion Ethiopian birr ($12.71 billion) budget last July.
Theoretically, of course, the idea of 'a dollar a day' could potentially generate millions of dollars on a daily basis given the sheer size and financial diversity of the global Ethiopian Diaspora community. The trick, however, lies in tailoring a unified message that could resonate with the silent majority. One problem faced by EDTF is that soon after PM Abiy's speech several websites had quickly popped up in the Washington, D.C. area and elsewhere promoting the tagline 'a dollar day for Ethiopia,' and creating confusion among donors. Dr. Bisrat told Tadias that EDTF is now appealing to these organizations and websites to join them in "the big tent." Dr. Bisrat emphasized that the websites are run by "well-meaning people with good intentions," while underscoring EDTF's view that they should now coordinate their efforts together for better impact. "They can either work with a local chapter or transform themselves into an independent chapter."
"One other thing that we want to tell the public is that we are not going to wait until all the money comes in order to start funding projects," Dr. Bisrat noted. "We want to start the operation as soon as possible." To that end there will be "a Secretariat of the Fund" in Ethiopia that will help the Board in identifying projects to support.
"Anyone can apply for funding, but we want to give priority to youth-oriented programs especially focusing on disadvantaged communities," Dr. Bisrat said. "The Prime Minister has instructed that 100% of the funds raised be spent on projects." Bisrat highlights that the Office of the Fund's Secretariat in Ethiopia will be the only one to have paid positions. The salaries will be paid for the first year by the local UNDP office, which he helped facilitate during his recent trip to Ethiopia.
Furthermore, Dr. Bisrat shared that in conjunction with the Advisory Council that will be responsible for depositing the raised amount into an account at the Commercial Bank in Ethiopia, there is a Board of Directors for the fund in Addis Ababa.
"What we have agreed on is that the Board is made up of 11 members with the government comprising of 3 members as well as 3 other members from civil society as follows: one representing youth, one representing women, and a third one as a person of credibility with experience in this kind of work. An additional five will be Diaspora members." Among the members of the Diaspora, Dr. Bisrat added that "two will be selected from North America and the other three will be coming from Europe, Middle East and Africa. Eventually one might be added from Australia. We expect the Board of Directors to be announced in the next two weeks."
—
You can learn more about the fund and contribute at ethiopiatrustfund.org.

Related:
A Diaspora Trust Fund for Ethiopia (Tadias Editorial/July 10th, 2018)
Join the conversation on Twitter and Facebook.