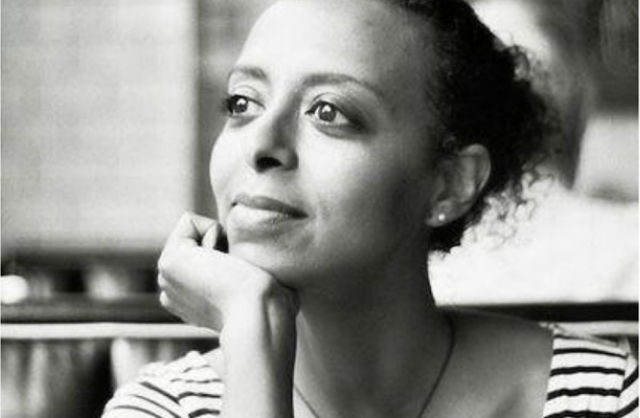 Tadias Magazine
By Tadias Staff
April 11th, 2018
New York (TADIAS) — Ethiopian-American author Maaza Mengiste is one of 17 writers featured in a newly released book by the Pulitzer Prize–winning author Viet Thanh Nguyen entitled The Displaced, which presents a collection of essays by fellow refugee writers from around the globe.
Maaza Mengiste who is the author of the critically acclaimed novel Beneath the Lion's Gaze was born in Addis Ababa, Ethiopia and graduated with an MFA in Creative Writing from New York University. Maaza is also the "writer for the Ethiopia segment of GIRL RISING," a feature film that tells the stories of 10 extraordinary girls from 10 developing countries around the world. Maaza's work has appeared in The New Yorker, The New York Times, The Guardian, BBC Radio, The Granta Anthology of the African Short Story, and Lettre International.
According to the press release The Displaced is "a powerful dispatch from the individual lives behind current headlines, with proceeds to support the International Rescue Committee (IRC), brings together writers originally from Mexico, Bosnia, Iran, Afghanistan, Soviet Ukraine, Hungary, Chile, Ethiopia, and others to make their stories heard."
The announcement describes the contributing writers as being "formidable in their own right — MacArthur Genius grant recipients, National Book Award and National Book Critics Circle Award finalists, filmmakers, speakers, lawyers, professors, and New Yorker contributors —- and they are all refugees, many as children arriving in London and Toronto, Oklahoma and Minnesota, South Africa and Germany. Their 17 contributions are as diverse as their own lives have been, and yet hold just as many themes in common."
The press release added: "These essays reveal moments of uncertainty, resilience in the face of trauma, and a re-imagining of identity, forming a compelling look at what it means to be forced to leave home and find a place of refuge."
In a recent book review The Economist praised Maaza's essay in the book noting: "The outstanding piece is by Maaza Mengiste, an Ethiopian-American who gives a lyrical, erudite and unsettling reflection on refugees as Lazarus figures whose existence is forever defined by a single miracle."
In 2016 Maaza Mengiste was also one of the featured speakers at PEN World Voices Festival panel discussion in NYC hosted by PEN America highlighting "the responsibility of writers in humanitarian crises" such as what's taking in many parts of the world today.
—
Related:
The Displaced: Refugee Writers on Refugee Lives (Amazon)
Tadias Q & A With Maaza Mengiste
Join the conversation on Twitter and Facebook.