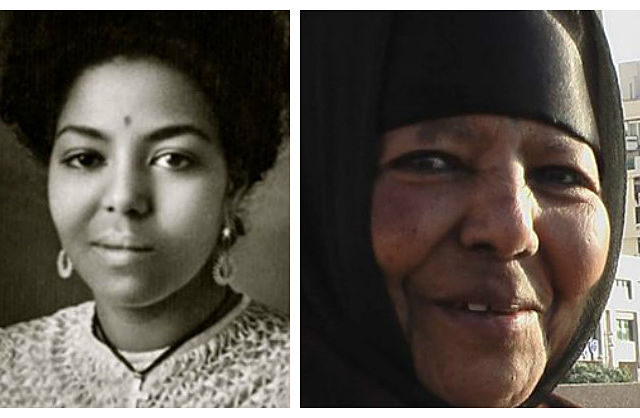 Tadias Magazine
By Tadias Staff
March 11th, 2017
New York (TADIAS) — The renowned classical pianist and composer Emahoy Tsege Mariam Gebru has released her last recordings, a CD of new compositions called The Visionary.
The Ethiopian nun, who turns 95 years old this year, lives inside the Ethiopian monastery in Jerusalem. She gained international following after her solo compositions were published in the Ethiopiques 21 CD series by the French label Buda Musique ten years ago.
The Emahoy Tsege Mariam Music Foundation announced that her latest album, which was issued in February, is self published in limited edition and only a few hundred copies are available via the foundation's website.
Born as Yewubdar Gebru in Addis Abeba on December 12, 1923 Emahoy Tsege Mariam fled communist Ethiopia in the 1980′s for a solitary life in Jerusalem playing piano everyday, seven days a week. Her greatest compositions include the "Homeless Wanderer," a beautiful and pensive piece that is reflective of all her other works.
Some of the tracks in her new CD, "The Visionary," include: Have you seen Assayehegn?, Extract from Rainbow Sonata, Woigaye, don't cry anymore, Farewell Eve, Famine Disaster 1974 , Homage to Ludwig Beethoven, Jerusalem, The Phantom, Reverie, Quo Vadis, Ave Maria and Quand la Mer Furieuse.
Regarding her fascinating life story it is fair to say that Emahoy has seen it all when it comes to the ups and downs of the turbulent history of modern Ethiopia in the past nine decades. As a teenager in the late 1930′s her family "was taken as prisoners of war by the Italians and deported to the island of Asinara, north of Sardinia, and later to Mercogliano near Naples," shares The Emahoy Tsege Mariam Music Foundation. "After the war, Yewubdar resumed her musical studies in Cairo, under a Polish violinist named Alexander Kontorowicz. Yewubdar returned to Ethiopia accompanied by Kontorowicz and she served as an administrative assistant in the Ministry of Foreign Affairs and later in the Imperial Body Guard where Kontorowicz was appointed by Emperor Haile Selassie as music director of the band."
Later, young Yewubdar, who grew up in a privileged family (her father was Kentiba Gebru) and studied violin in Switzerland as a young girl, "secretly fled Addis Abeba at the age of 19 to enter the Guishen Mariam monastery in the Wello region where she had once before visited with her mother," the foundation adds. "She served two years in the monastery and was ordained a nun at the age of 21. She took on the title Emahoy and her name was changed to Tsege Mariam."
Emahoy Tsegue-Maryam – The Homeless Wanderer from aloido on Vimeo.
In the 1960s Emahoy had studied Saint Yared's 6th-century music in Gondar. And barely a decade later she would survive the mayhem following the 1970′s communist revolution. Emahoy's first record was released in 1967 in Germany through the assistance of Emperor Haile Selassie with subsequent piano compositions released in 1973, the proceeds of which were used to assist orphanages.
At Emahoy Tsege Mariam Gebru's request both her published and unpublished compositions have been donated to her foundation to continue to provide disadvantaged children with the opportunities to study classical and jazz musical genres.
"Her life is full of teaching moments for young people, artists and students," said her niece Hanna M. Kebbede, who resides in Falls Church, Virginia. "She has endured a lot. It is a uniquely Ethiopian story, but at the same time the lessons are universal."
—
You can learn more and buy the new CD at www.emahoymusicfoundation.org.
Related:
From Jerusalem with Love: The Ethiopian Nun Pianist
Join the conversation on Twitter and Facebook