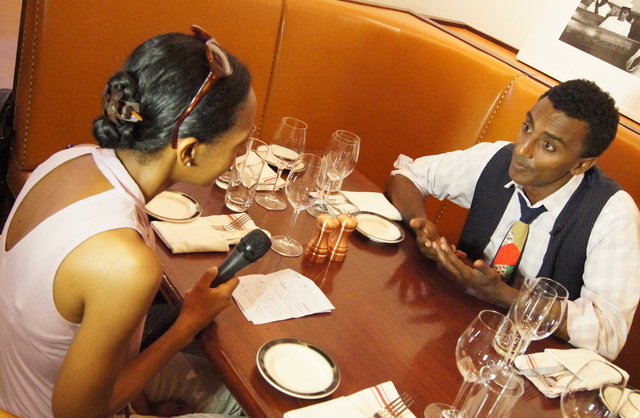 Tadias Magazine
By Tadias Staff
Updated: Monday, July 9, 2012
New York (TADIAS) – The day before TADIAS sat down with Marcus Samuelsson at Red Rooster to interview him about his memoir entitled, Yes, Chef, he received the congratulatory news that his book was listed at number 7 on The New York Times Best Seller list. And as NYT's book review had highlighted a week earlier: "Mr. Samuelsson, as it happens, possesses one of the great culinary stories of our time."
From contracting tuberculosis at age 2, losing his birth mother to the same disease, and being adopted by a middle-class family in Sweden, Marcus would eventually break into one of the most exclusive clubs in the world, rising to become a top chef with a resume including cooking at the White House as a guest chef for President Obama's first State Dinner 3 years ago. Since then, Marcus has morphed into a brand of his own, both as an author and as owner of Red Rooster in Harlem.
"I first started to work on the memoir about five years ago", Marcus told TADIAS. "I have been asked for many years to do a book. I just started to get to know my journey myself." He added: "You know, there was always new layers, whether it was leaving Aquavit, coming uptown, building Red Rooster, getting married, or learning about my birth father."
Marcus who lives in New York with his wife, Ethiopian-born model Maya Gate Haile, said he feels at home in Harlem as he does in Sweden and Ethiopia. "Harlem has a sense of home to it," he said. "It's a neighborhood in a very busy city, every time I come back to Harlem I feel I am at home in a way that I feel like when I am in the West Coast of Sweden and even when I am in Addis I feel like I am at home in a different way."
Describing Harlem Marcus said, "You see signs of the Ethiopian and the Harlem community constantly, whether it's when Haile Selassie visited Harlem or you see the Abyssinian Church, still to this day they do so many trips back to Ethiopia. So it's something that I am extremely proud to continue on the tradition of the link between Ethiopia and Harlem." He continued, "Obviously my space is food so it's also a way to break bread. You know, when I serve dried injera here or berbere roasted chicken, I am continuing a legacy that has been here way before me and hopefully it's going to continue way after me."
You can watch the video below for our full interview with Marcus Samuelsson.
We say rush to get your own copy of Yes, Chef, it's a fantastic read!
Video: Interview with Marcus Samuelsson About His Memoir 'Yes, Chef,' (TADIAS TV)