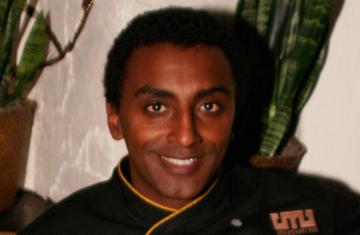 Above: Marcus Samuelsson sat down for an interview with Tadias
on Monday, April 14, 2008 at Merkato 55. Photo by Jeffrey Phipps.
Iron Chef America: Flay vs. Samuelsson (Food Network)
Esteemed NYC Chef Marcus Samuelsson enters kitchen stadium for the first time to challenge Chef Bobby Flay. Will the judges favor Chef Samuelsson's worldly cuisine, or will Chef Flay's Southwestern flare win them over? Tune in to see whose cuisine reigns supreme. Read More.