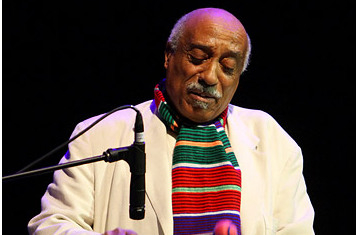 Above: Hit Me with your Rhythm Stick – Mulatu Astatqe on
vibes at the Ethiopiques concert in London. (Time.com)
Ethiopian sounds to be served with ribs (The Columbus Dispatch)
Sunday, July 20, 2008
By Gary Budzak
Music from the "horn of Africa" will be among the sounds heard at the Jazz & Rib Fest next weekend.
The Either/Orchestra, a 10-piece jazz band from Cambridge, Mass., which last performed in Columbus in 1991, will return with four musicians originally from Ethiopia.
The band's guests will be Mulatu Astatke (vibes, keyboards), Setegn Atanaw (masinko, a one-string violin), Minale Dagnew (krar, a five-string lyre) and Hana Shenkute (vocals). The band will play on the Bicentennial Park Stage at 8:30 p.m. Friday.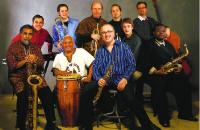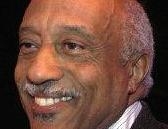 Above Left: The Either/Orchestra with leader Russ Gershon at center, in striped shirt.
(Photo:Eric Antoniou). Middle: Mulatu Astatke. Right: David Sanborn
"Most people hearing Ethiopian music blindfolded, so to speak, think that it's some sort of combination between African and Arabic music," said Russ Gershon, the orchestra's saxophonist and leader, in a recent interview.
"When you think of Ethiopian music and have the Either/Orchestra play it, you have the African rhythms, the (Amharic-language) singing, jazzy horn solos and Latin grooves," Gershon said.
"Both Latin and jazz music come from Africa to begin with. So American musicians, we're heirs to African music. But on the other hand, Ethiopians have been very strongly influenced by American music, so it really mixes together very well." Read More.