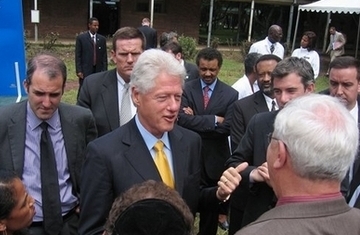 By Tadias Staff
Friday, August 1st, 2008
New York (Tadias) — AFP is reporting that former President Bill Clinton is in Ethiopia and on Friday "pledged more support to combat HIV/AIDS in Ethiopia, where he started a four-nation African tour."
The Clinton Foundation announced that Ethiopia will receive five million dollars over three years to help prevent the spread of AIDS, which kills around 370 Ethiopians each day, according to UN figures.
"I want to personally make sure that every baby born here will not be HIV-positive," Clinton said in Godino Jitu, Ethiopia, 70 kilometres (43 miles) south of Addis Ababa, where he visited a health centre.
"This centre is one of several hundred that have received help from the foundation, but will soon be one of thousands," Clinton said.
Clinton will also visit Rwanda, Liberia and Senegal, as part of a trip to promote his foundation's efforts to tackle AIDS and malaria. Read More.