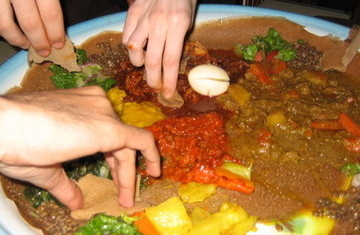 By Angela Obery
Published: August 5, 2008
Portland, Oregon (Statesman Journal) – Looking back on local family trips, I must admit that many of them revolve around food.
After all, we have to eat; we might as well make the meal an adventure!
Recently while visiting friends in Portland, my husband, sons and I were invited to dinner at an Ethiopian restaurant.
I was eager to see my old friend but wary about his ability to choose a child-friendly restaurant. A confirmed bachelor, I was unsure if he understood the intricacies of dining with a 3-year-old.
Holding the printed directions in one hand and a map in another, I navigated while my husband drove into a north Portland neighborhood previously unknown to us.
Parking on a side street and walking past other business, we saw the chosen restaurant — it had an old sign welcoming us to the Queen of Sheba Ethiopian Bar.
I momentarily thought our bachelor friend has steered us terribly wrong, however a second look unveiled an additional sign that read: "and Restaurant.'
I silently sighed as my husband and I shared a look of uncertainty.
Slowly stepping through the front door we were greeted by the restaurant owner and immediately shown to a roomy table by the front window.
Glancing around the small room, I saw a few other tables seated with groups including children. The place was a buzz with activity and so the adventure began.
Reading the menu, I was confused. Ordering would not be easy. Although the menu gave short descriptions of the offerings I still had no real sense of what was being offered.
Meats, vegetables, lentils and spices were all clearly named, but where as Japanese, Italian, and French bring certain flavors to mind, I had no background knowledge to consider Ethiopian.
Sensing our general confusion, the waitress was incredibly helpful when ordering. She told us which dishes were favorites with other families with small children and she guided our order to include several items considered mild and two with a bit more spice for the adults in our group.
As she walked away from the table I knew only that, among others, we would be trying dishes #1, #6 and #27.
When the meal arrived, the adventure continued as all the items were served family style on one large platter.
Injera, the traditional flat bread of Ethiopia, was provided and everyone tore off small pieces so as to scoop up the entrée and side dishes. My 3-year-old watched all the adults dig in and shyly asked, "Where are the forks?"
He seemed amused by the idea that no one would use utensils at this meal.
Injera is a flat, spongy bread and after several bites with the meal, my 6-year-old then ate several more bites of the bread alone. Holding up a small piece he commented, "It looks like a pancake, but it doesn't taste like a pancake."
I agreed.
Our party continues to scoop, wrap and dip as the meal continued. I found my sons and I most enjoyed the wat, or stew, of potatoes, carrots and beans. My husband favored the chicken and mushroom combination, while our friends ate up most of the spicier dishes.
The time passed quickly between eating and conversation and, before I knew it, the platter before us was almost wiped clean.
Paying our bill and heading out into the pleasant evening air I was pleased to have ventured out of our comfort zone with my family to try this new restaurant.
Time had passed since our last gathering with this old friend, but the feelings of care and loyalty for him are still strong.
Mix that up with two kiddos who are willing to try anything new and you have the perfect recipe for an adventurous Kid Trips to Portland, or to Ethiopia, or to whatever lies ahead.
—
Angela Obery lives in Salem with her husband and two young sons. Look for the Kid Trips column each Tuesday in this section. Contact Angela at Kid Trips, the Statesman Journal, P.O. Box 13009, Salem, OR 97309-3009. Letters can be faxed to (503) 399-6706 or e-mailed to sjkidtrips@yahoo.com.