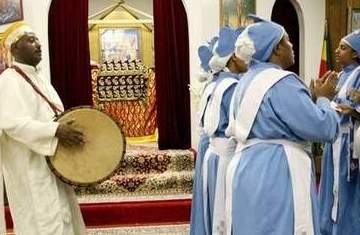 BY ALEX P. KELLOGG
FREE PRESS STAFF WRITER
August 6, 2008
If it seems like you're traveling to a world thousands of miles away — and millennia old — in a way, you are.
But when you enter the Debre Guenet Abune Teklehaimanot Ethiopian Orthodox Tewahdo Church, you happen to be in Commerce Township.
And not only are you in Commerce Township — one of the most homogeneous communities in metro Detroit — you're on a quaint little road within view of the township's offices at 2840 Fisher Ave. The church is at 2800 Fisher.
If, as neighbors, they sound like strange bedfellows, they are. Even members of the church admit it.
"When we opened, we had a few neighbors come," said Begashaw Deneke, chairman of the church's governing board. Read more at Detroit Free Press.