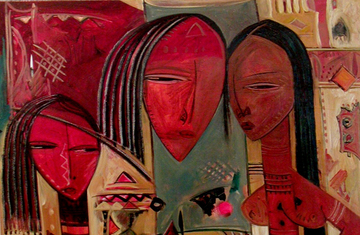 Spotlight on Artist Fikru G/Mariam
Born in 1973, Fikru G/Mariam has been practicing art ever since his parents enrolled him at the Addis Ababa School of Fine Arts children's program at the age of eleven.
In 1986, he takes part in the children's competition organized by the International Children's Painting Exhibition in Beijing, wins a reward and what was at the beginning just a hobby became a real passion.
In 1995, he graduates from the School of Fine Arts and decides to dedicate his life to full-time painting. At that time, most of his works were concentrated on religious and traditional african themes.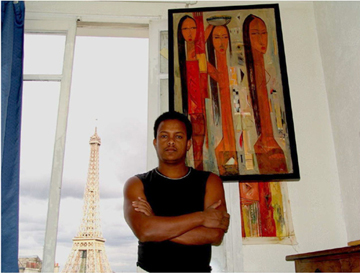 Fikru in his Paris Studio – 2005
After traveling in the Harrar region and in Northern Ethiopia, Fikru finds new sources of inspiration, especially in Harari women. According to him, those women are "highly decorative in the way they dress and do their craft" (The Reporter, 03/10/1999).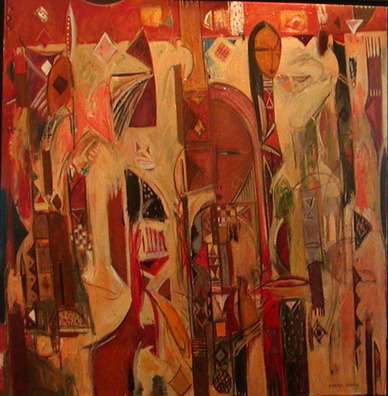 The Dream – 120×120 cm – Oil on canvas – 2004. Upcoming shows – 2007: solo exhibition National Museum, Addis Ababa, Ethiopia. 2007: May 1-30: solo exhibition, Galerie François 1er, Aubigny sur Nère (18700), France. Opening on May 5th at 5pm. 2008: summer: Galerie Alternance Guy Lignier, Hardelot, France.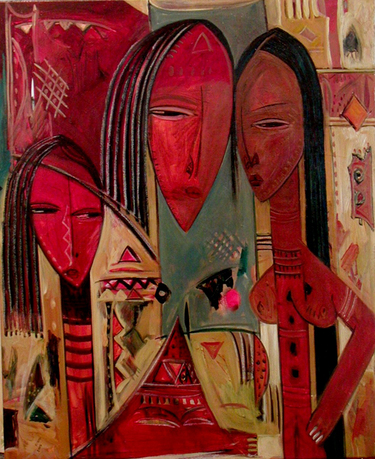 Blue dream 100×81 cm Oil on canvas 2004. Painting by Fikru G/Mariam (Addis Ababa & Paris).
Over time, his style has diversified: some depict stylized, elongated African masks, richly decorated.
Between 1995 and 2003, he has exhibited 13 times in Addis Abeba, the last one was at the National Museum of Addis Abeba in February 2003. Fikru also showed his works abroad. In 1999, he exhibited for one month in Dublin (Ireland) and between 2002 and 2005 he exhibited 9 times in Paris and in different parts of France. In 2003, he participated in a group exhibition in Maryland (USA) and in November 2004 he will exhibit in Washington DC. In 2005, he exhibited at the Salon d'Automne in Paris.
Now, Fikru shares his time between Addis Abeba and Paris. His works are displayed in many private collections in Ethiopia, France, Ireland, Spain, Germany, England, United States, Canada, Cap Verde, South Africa, Italy, and the Netherlands. Leran More about Fikru .
Related Stories:
London – In pictures: Ethiopia's forgotten archive (BBC)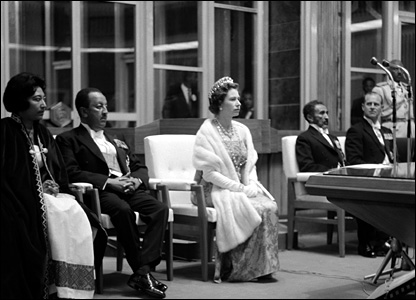 An exhibition of previously unseen photographs from Ethiopia between 1963 and 1982 is opening in London as the country marks its millennium celebrations. They were taken by Shemelis Desta who was the official court photographer for Emperor Haile Selassie. See More Photos, Click Here