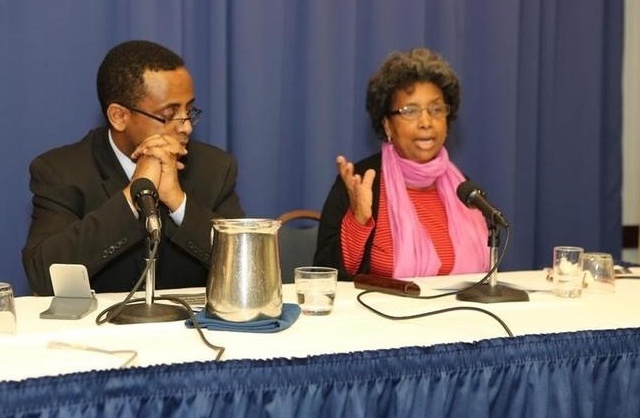 Tadias Magazine
By Tadias Staff
Published: Friday, January 9th, 2015
New York (TADIAS) — Organizers of the fourth annual International Conference of Ethiopian Women in the Diaspora, which is scheduled to take place on March 7th, 2015 in Washington DC, are calling for presentation proposals regarding "The Role of Civil Society Organization (CSOs) in the Upcoming Elections in Ethiopia."
"The main objective is to create an understanding of the magnitude of the negative impact of the Societies and Charities Law on the activities of nongovernmental organizations," states the event host, U.S.-based Center for the Rights of Ethiopian Women (CREW). "As a women's civil society organization, CREW will also pay special attention to Ethiopian women's participation in the political process. Thus, one of the major questions that the conference will address will be the role of women's organizations in mobilizing women to seek their rights for fair and free elections."
The announcement notes that between the early 1990′s and mid-2000s civil society organizations had actually flourished in Ethiopia, but that changed following a 2009 law called "the Societies and Charities Proclamation" that, organizers point out, neutralized the activities of such associations. The press release added: "Individual initiatives through CSOs are based on the inalienable right to participate in addressing vital political and socio-economic issues, without belonging to political parties. Civil society organizations are autonomous means of participating in public life. They are systems promoting initiatives to ensure that people have the opportunities to pursue their preferred directions in their political, economic or social lives. Without the active role of CSOs therefore, creating awareness of the rights and responsibilities of citizens and having fair and free elections is going to be impossible."
Organizers emphasize that the conference is intended to address the following themes: "Assessment of the Societies and Charities Law and its impact on the activities of civil society organizations in the upcoming elections: lessons learned from previous elections and challenges and opportunities for the upcoming elections; women's participation in the political process and women's advocacy for free and fair elections; plans of action and advocacy strategies for encouraging women to seek political leadership positions; and encouraging the international community to promote free and peaceful elections in Ethiopia."
—
If you are interested in presenting papers on any of these areas, CREW asks that you submit a one-page proposal by January 30th, 2015. Learn more at www.centerforethiopianwomen.org.
Join the conversation on Twitter and Facebook.