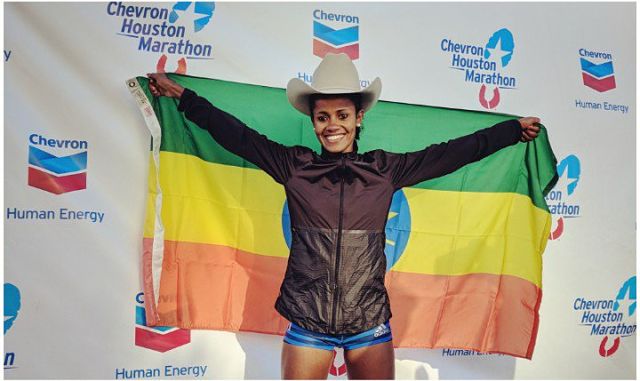 Associated Press
HOUSTON — Bazu Worku held up three fingers as he headed down the final stretch of the Houston Marathon.
Worku, trailing Ethiopian countryman Yitayal Atnafu by 23 seconds with about two miles left, turned on the jets Sunday to win the event for the third straight time.
"Yitayal, my competitor, we train together," Worku said through a translator. "I know that he is a very strong person and trains very well . When he put so much into his pace after 25 kilometers, then I realized he cannot finish with that pace. Then I applied my strategy."
Biruktayit Degefa won the women's race and two-time Olympian Molly Huddle broke the record for the fastest half-marathon by an American woman.
It was 34 degrees for the start of the race and Worku won with a time of 2 hours, 8 minutes, 30 seconds. With victories in 2013 and 2014, he became the third runner to win the race three times, joining David Cheruiyot of Kenya and Stephen Ndungu of Ethiopia.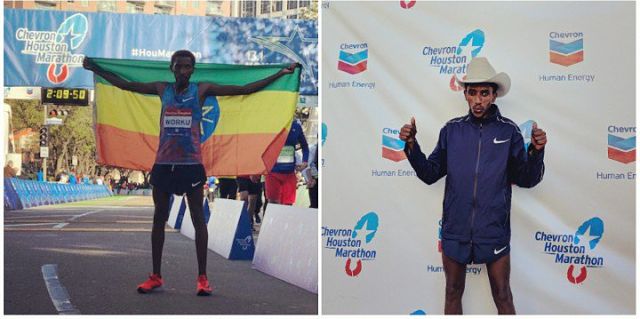 2018 Houston Marathon Men's Winner: Bazu Worku from Ethiopia. (Photo: Twitter @HoustonMarathon)
"It was exhilarating," Worku said.
This is the third straight year Atnafu finished second at the Houston Marathon.
Degefa captured her second women's title at the Houston Marathon, finishing with a time of 2:24:51. She has competed in this race five years in a row.
"When I come to Houston I feel a special joy," Degefa said. "I consider Houston as my hometown. As if I'm coming to a family. These five years, I know Houston very well. I come very prepared and I knew I would win today."
—
Join the conversation on Twitter and Facebook.