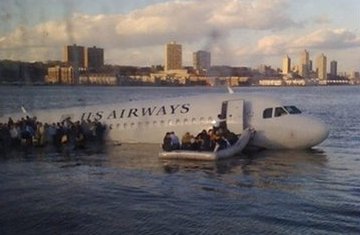 Above: In this photo taken by a passenger on a ferry, airline
passengers egress a US Airways Airbus 320 jetliner that safely
ditched in the frigid waters of the Hudson River in New York,
Thursday Jan. 15, 2009 after a flock of birds knocked out both
its engines. All 155 people on board survived.
(AP Photo/Janis Krums)
By DAVID B. CARUSO and MARCUS FRANKLIN
NEW YORK – A cool-headed pilot maneuvered his crippled jetliner over New York City and ditched it in the frigid Hudson River on Thursday, and all 155 on board were pulled to safety as the plane slowly sank. It was, the governor said, "a miracle on the Hudson." One victim suffered two broken legs, a paramedic said, but there were no other reports of serious injuries.
The US Airways Airbus A320 bound for Charlotte, N.C., struck a flock of birds just after takeoff minutes earlier at LaGuardia Airport, apparently disabling the engines.
The pilot, identified as Chesley B. "Sully" Sullenberger III of Danville, Calif., "was phenomenal," passenger Joe Hart said. "He landed it — I tell you what — the impact wasn't a whole lot more than a rear-end (collision). It threw you into the seat ahead of you. Read more.