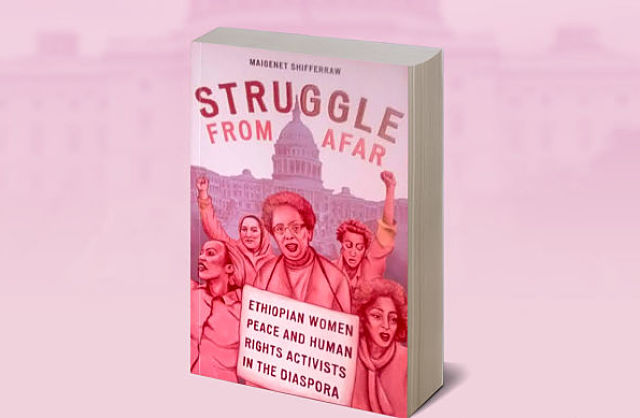 Tadias Magazine
By Tadias Staff
January 22nd, 2018
New York (TADIAS) — In her newly published book Struggle From Afar the late educator and social justice activist Dr. Maigenet Shifferraw, who passed way two years ago, left behind a gem for future researchers by meticulously documenting the history of Ethiopian women grassroots activism in the Diaspora.
In Struggle From Afar Dr. Maigenet also debunks the myth that Ethiopian female millennials are not as passionate about human rights issues as their parents' generation or their male counterparts. "It would be unfair to say that, unlike our generation, all young Ethiopians are disinterested in social justice movements," she writes, emphasizing that as one young Ethiopian woman told her that today they simply follow a "different platform." Dr. Maigenet explains that a "different platform" meant "focus on the humanitarian component of social activism."
Women activists interviewed and featured in the book include former opposition leader Birtukan Mideksa as well as the acclaimed actress and playwright Alemtsehay Wedajo. In addition, Dr. Maigenet also highlights intimate conversations with several women across various fields including Abeba Fekade, Berhane Ras-Work, Fekerte Gebremariam, Lemlem Tsegaw, Mary Tadesse, Meqdes Mesfin, Meron Ahadu, Tsehai Berhane-Selassie and Wessenyelesh Debela.
"When I interviewed the women activists for this book their political views was not my primary interest," Dr. Maigenet states. "I was only interested in what motivated them to become activists to work on peace, democracy and human rights issues." She adds: "I was also interested, for those who were political activists, what challenges they had in participating in the male-dominated arena of political activism."
Moreover, Dr. Maigenet cites American civil rights hero Rosa Parks as an international role model of the power of nonviolent noncooperation and resistance by individual citizens that changed the course of history in their own countries and beyond.
Another remarkable person mentioned in the book is British suffragette leader Sylvia Pankurst (1882-1960), who became a lifelong advocate for Ethiopia because of her strong opposition to fascism during World War II. "She marched, spoke in conferences, and argued with members of the British Parliament against Italian fascism and the invasion of Ethiopia," Dr. Maigenet points out. "She founded the New Times and Ethiopia News, which was published in London in the 1930′s. She later turned the paper into the Ethiopia Observer, published in Addis Ababa, after the end of the Italian occupation." Sylvia Pankurst eventually moved to Ethiopia where she lived until her death on September 27th, 1960 and was buried in Addis Ababa with great honor. Dr. Maigenet noted: "This is an exemplary example of disciplined and sustained peaceful resistance."
Dr. Maigenet passed away at the age of 68 on February 24th 2016. She was an Associate Professor in adult education at the University of the District of Columbia for 20 years. She also worked as an education consultant at the World Bank and the U.S. Department of Education.
The book Struggle From Afar is published by Fanos Books (a TSEHAI imprint) for the Center for the Rights of Ethiopian Women (CREW), which Dr. Maigenet helped establish and served as its President at the time of her passing, and with a foreword by her husband Professor Getachew Metaferia.
CREW will be hosting a book release event this coming weekend in Silver Spring, Maryland.
—
If You Go:
Book release: 'Struggle From Afar'
Saturday, January 27th, 2018
Doors open at 4PM
Silver Spring Civic Center
Silver Spring, Maryland
centerforethiopianwomen.org
Join the conversation on Twitter and Facebook.