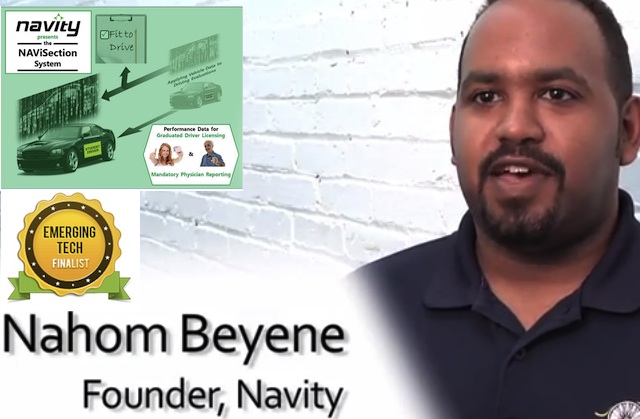 Tadias Magazine
By Tadias Staff
Published: Monday, January 27th, 2014
New York (TADIAS) — At this year's Digital Health Summit, held in early January in Las Vegas, Nahom Beyene's mobility advocacy company Navity, Inc., which created the NAVISection System, was selected as an 'Emerging Tech Finalist' in the Everyday Health Awards for Innovation. Nahom's doctoral research in Rehabilitation Science at the University of Pittsburgh led him to develop the NAVISection System that is described on the 2014 Digital Health Summit site as an "integrated technology for driving programs to collect measures of driver capability and reinforce licensing recommendations." The NAVISection System assists in collecting data that helps with the evaluation of the driving capability of teenagers and older drivers.
In a statement Nahom said Navity's goal is "to provide objective evidence for families to understand when it is time to start or stop driving, and why. Driving is a public health issue as human error is responsible for 93% of collisions. The trends for driver safety show us that our driver licensing practices are in need of innovation. Navity will be a partner introducing advanced vehicle technologies to driving programs in service of teens and older adults, who seek to obtain or retain their driver's license."
Nahom obtained his Bachelors of Science degree in Mechanical Engineering from The University of Texas at Austin, his Masters degree in Biomechanical Engineering from Stanford University, and his PhD in Rehabilitiation Science from University of Pittsburgh. Prior to launching Navity, Inc. in 2012 Nahom worked at NASA Johnson Space Center on exercise hardware design and development.
Watch: Nahom Beyene explains how Navity, Inc.'s technology works

—
Learn more at: http://www.forceofnavity.com.
Join the conversation on Twitter and Facebook.