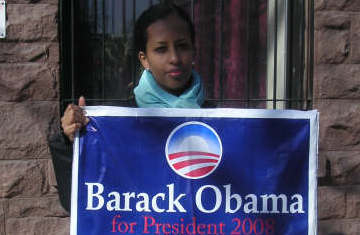 By Liben Eabisa
New York – We contacted a volunteer for Senator Barack Obama's Presidential campaign and sent our questions via email. Here is our interview with Adey Fisseha, law student here in New York and Harlem resident.
Tadias: Adey, thank you for agreeing to do this interview. We understand that you attend law school here in New York. Please tell us a bit more about yourself.
Adey: Before going to law school, I worked in DC in a number of policy positions but had never participated in politics until the 2004 Presidential elections. I was so disillusioned by the results of the 2000 election that I volunteered to go to Florida and "get out the vote" in the week immediately before the election. It was another disappointing result.
Tadias: How did you get involved in the Obama campaign?
Adey: Like many, I first heard Senator Obama speak when he gave the keynote address at the 2004 Democratic National Convention. I was impressed by Senator Obama's oratory skill and was moved by his message – that we have to redraw the political map by appealing to the many issues on which a large cross section of the population agree. I decided to get involved because his candidacy is drastically reshaping how Americans view and practice politics. His vision moves us away from politics rooted on false divisions based on race, gender, ethnicity, and region towards one based on shared goals.
In his first book, "Dreams of My Father," Senator Obama recounts his experiences organizing among the low-income residents of Chicago's South side. It is the skills developed working among disenfranchised people – of seeing complicated issues from multiple vantage points, bringing people who were on opposite sides of the spectrum together that I think are critical for the next President. The next President will have the monumental task of re-establishing civil and Constitutional Rights dismantled during this administration. Who better for the task than Senator Obama who taught Constitutional law and practiced as a Civil Rights lawyer.
Tadias: What is your role as a campaign volunteer?
Adey: This is a grassroots campaign. Volunteers can create their own events or participate in events that have been organized by other volunteers. For instances, on Thursday a classmate and I created a post on the Obama website that we planned to stand outside of the Union Square subway and hold up signs and hand out materials. At least 10 other Obama supporters signed up through the website and joined us. On Friday, I joined a group of people who had decided to do a visibility event outside of the 145th street subway station.
Tadias: We also understand that you have been active trying to reach Ethiopian Americans. How are you doing that?
Adey: There is a massive outreach scheduled for this weekend in Harlem. As a part of that effort we have asked Ethiopians' who support Obama to pass out literature at the two churches based in Harlem.
Tadias: A significant number of older Ethiopian Americans, at least those that we have talked to, say that they will vote for Hillary because Obama will not win the general election. How do you answer that?
Adey: In the general election, the Democratic candidate will not only need the support of the democratic base but will also need to attract the independent vote. In Iowa and New Hampshire, Senator Obama picked up a significant portion of the independent vote. Further, he has also shown the ability to appeal to republicans. These indicate that he would make a strong contender in a general election.
Tadias: There was a high profile Harlem endorsement recently that was widely covered by the media. Reverend Calvin Butts, head of the Abyssinian Baptist Church, who led a 150 member delegation to Ethiopia this fall, has endorsed Senator Hillary Clinton. How serious a blow is that to your efforts?
Adey: I believe that Senator Obama has strong support among the residents of Harlem.
Tadias: The media is split on the question of whether Harlem is for Hillary or Obama. But a recent article by the New American Media had a headline that declared "Obama Has Harlem Locked." Is Harlem really Obama country?
Adey: I believe that Senator Obama has strong support among the residents of Harlem.
Tadias: How can people get involved?
Adey: There are a number of ways that people can help. One: Vote. New York's primary is on Tuesday, February 5th. Polling stations are open from 6 a.m. – 9 p.m. You must be a registered Democrat to vote in the Democratic primary in New York. Every vote counts — the New York primary is not winner-takes-all. Delegates are awarded proportionally so it is critical that everyone go out and vote. If you are registered, you can vote now at the Board of Elections' Borough Offices. The Manhattan office is located 200 Varick St., 10 Fl. Borough Offices are open this weekend and on Monday 9:00 a.m. -5:00 p.m. and on Election Day until 9 p.m.
Two: Recruit. Talk to at least five additional people about why you support Senator Obama. Call and remind those people to vote on Tuesday.
Three: Contribute. 22 states are voting on Tuesday and buying ads, airtime, posters etc costs a tremendous amount of money. The race for the Democratic nominee is unlikely to be a decided on Tuesday as the race continues the campaign will require funds to continue to get its message out to voters. The purchase of T-shirts, sweatshirts and other items from the Obama Campaign website is also another way to donate to the campaign. To contribute go to the Obama website. To purchase T-shirts etc go to the Obama online store.
Four: Volunteer. Even if you only have an hour there are plenty of volunteer opportunities. The website lists volunteer opportunities throughout the country. New York residents can find volunteer opportunities at http://newyork.barackobama.com. Residents of other states should go to the main website www.barackobama.com and click on state.
Tadias: Thank you, Adey. Good luck!