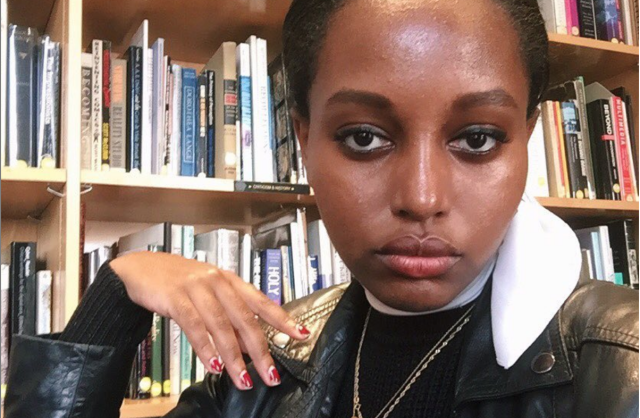 Tadias Magazine
By Tadias Staff
Updated: February 6th, 2019
New York (TADIAS) — Edelawit Hussien, a 23-year-old Ethiopian filmmaker who is living between New York and Berlin recently shared her upcoming short film with Tadias, which follows three Addis Abeba-based teenagers on a road trip to Lake Langano.
"My work aims to explore dual identity and global exchange motivated by my Ethiopian upbringing within an American context," Edelawit tells Tadias.
"After graduating from New York University where I studied politics, film, and African studies, I worked within the commercial and branded film sphere before relocating to Berlin to exclusively work on independent filmmaking."
The film tilted Wallahi, I Will Be Somebody "takes inspiration from the energy of Ethiopia today, a time of excitement and change," Edelawit adds. "With its growing art community, young people are looking to connect the traditional with the modern as well as build a bridge between Ethiopians within the nation and in the Diaspora. These endeavors have manifested into music, art, fashion, culture and cinema."
In the short film the three teenagers — Tefera, Omar and Miki — are in an uncertain stage of their lives, "that youth all over the world experience," explains Edelawit. The film's Indiegogo page describes how "this uncertainty ranges from how they will make a living, and what kind of life they see for themselves, to how to maintain the joys of their youth."
According to the project's website, as the audience, we will also "see how their surrounding affects them as the city evolves and as do the residents. Through a series of vignettes, we are transported in time and space from an elderly couple drinking macchiatos at a Piazza cafe to kids selling toys at a busy roundabout. With poetic moving image chopped throughout the work, the film carries an experimental twist in its meditation on the changing notions of culture, city landscape and societal expectation through an honest look at the youth experience in this evolving time."
Edelawit shares that the film's producer is 28-year-old Ethiopian-Swedish Adelia Shiffraw who is currently working in commercial and film production sector in New York City. The filmmaker describes Adelia as an artist who "supports the amplification of minority voices and the preservation of their stories and experiences through film with particular interest in narratives exploring race and representation in a global context."
Why are they making this particular film?
Edelawit quotes from a play by Suzan-Lori Parks' noting: "You should write it down because if you don't write it down then they will come along and tell the future that we did not exist."
—
You can learn more about Edelawit Hussien's new film and support her fundraising campaign at www.indiegogo.com.
Join the conversation on Twitter and Facebook.