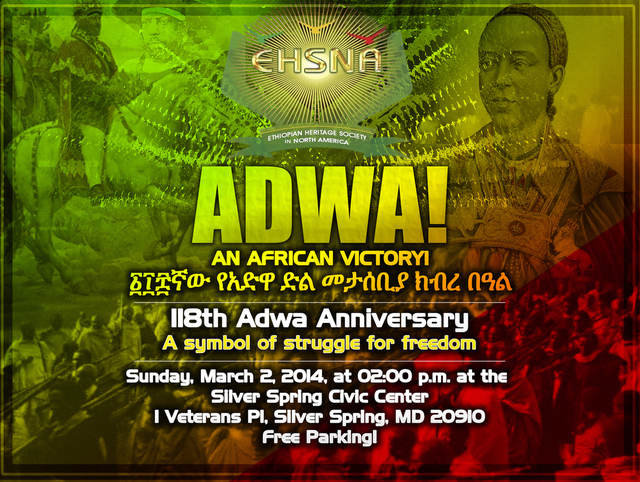 Tadias Magazine
Events News
Published: Sunday, February 9th, 2014
Washington, D.C. (TADIAS) — The Ethiopian Heritage Society in North America (EHSNA) will host a celebration next month in Silver Spring, Maryland marking the 118th anniversary of the historic Battle of Adwa. The event, which is scheduled for Sunday March 2nd, 2014 at Silver Spring Civic Center, will highlight the leadership of Emperor Menelik and Empress Taitu in assuring Ethiopia's independence from European colonization.
"One-hundred and eighteen years ago a well-organized army under the command of Emperor Menelik II and Empress Taytu decimated the Italian force that was seeking to colonize one of Africa's most ancient nations – Ethiopia," EHSNA stated in a press release. "As a leader ahead of his time, Emperor Menelik II was able to organize and structure an army within a short period of time to confront the Italians at Adwa. With his swift victory over the Italians, Menilik II solidified Ethiopia's independence by putting Ethiopia among the very few states in the world that have never been colonized."
Guest speakers include the executive of Maryland's Montgomery County Isiah Leggett (Keynote), as well as historian Raymond Jonas, who teaches at University of Washington in Seattle; Dr. Fikre Tolossa, professor at Lincoln University in Oakland, California; and Dr. Benjamin Talton, an Assistant Professor of History at Temple University in Philadelphia.
EHSNA is a non-profit, charitable organization (501c) "that encourages young members of the Ethiopian diaspora, and their families and friends, to remember and celebrate Ethiopia's cultural heritage, such as the significance of the Battle of Adwa."
—
If You Go:
118th Adawa Anniversary
Sunday, March 2nd, 2014
Events Starts at 2:00 PM
Sliver Spring Civic center
1 Veterans Pl, Silver Spring, MD 20910
Learn more at http://ehsna.org/
Join the conversation on Twitter and Facebook.