Above: Zerihun Yetmgeta working in his studio in Addis Ababa,
1992. Photo by Raymond Silverman (Source: MSU)
Published: Wednesday, February 11, 2009
New York (Tadias) – On Thursday, February 12th, 2009, Columbia University will host a lecture by Dr. Abebe Zegeye, Professor of Sociology at the University of South Africa and scholar at Yale University. His lecture entitled "The Magical Universe of Art: Ethiopian artist Zerihun Yetmgeta's works" will focus on Ethiopia's centuries old artistic tradition.
One of this fascinating African country's most prominent artists, Zerihun Yetmgeta, has decided to exhibit his works in his home town, the city of Addis Ababa. Yetmgeta's exhibition The Magical Universe of Art, is a collection of works that spans the artist's 40 years of work. It follows the maturation of Yetmgeta's artistic passion over the years, right up to the present. His art, always exceptional, has grown more fulsome, his talent for transposing traditional motifs of Ethiopian Christianity ­ its legends, magical practices, belief in spirits and demons and evil eyes – into contemporary art. Over time, his work has become more prodigious, more intricate and more laden with hidden meaning. This talk will provide further insight and explore Yetmgeta's extraordinary talent.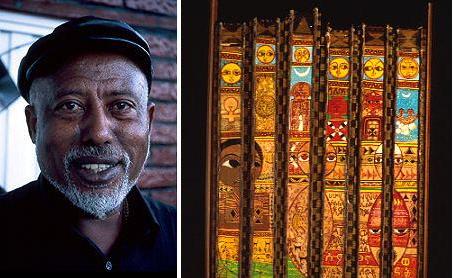 Left: Portrait of Zerihun Yetmgeta (photo by Raymond Silverman). Right:
Wax and Gold, 1991. Mixed media on animal skin and wood. MSU Kresge Art
Collection, 94.24.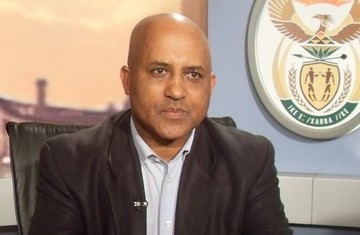 Dr. Abebe Zegeye will give the lecture on Thursday, February
12th, 2009 at Columbia University.
If you go:
Date: Feb 12th,2009
Time: 2:30-4:30pm
Location: Columbia University
Room 1512 International Affairs Building, 435 118th St.
Source: Columbia University