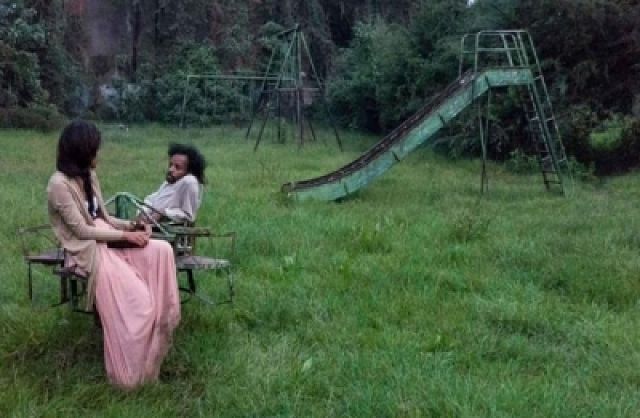 Tadias Magazine
By Tadias Staff
Published: Friday, February 13th, 2015
New York (TADIAS) — The Hollywood Reporter calls the new Ethiopian short film Crumbs an "outlandish and imaginative sci-fi" noting that the 68-minute movie makes "potent use of spectacularly extraterrestrial locations in the country's sunbaked far north around the ghost town of Dallol, the film takes an exotic and sometimes surreal approach to what's essentially a simple, touching love story."
The movie, which premiered this month at the 2015 Rotterdam International Film Festival in the Netherlands, is being hailed as Ethiopia's first post-apocalyptic sci-fi romance. Crumbs is directed by the Addis Ababa-based Spanish writer and director Miguel Llanso and features talented Ethiopian actors including Daniel Tadesse and Selam Tesfaye. The producers of the film are Llansó (Lanzadera Films), Daniel Taye Workou and Meseret Argaw (Birabiro Films).
"Set in an unspecified epoch after a "big war" whose consequences have severely depopulated the planet, Crumbs posits a micro-civilization where the mass-produced tat of the late 20th century is revered as valuable, even holy."
Watch: Crumbs trailer

—
Related:
'Crumbs': Rotterdam Review (The Hollywood Reporter)
Ethiopia's first post-apocalyptic sci-fi movie looks beautiful and bizarre (The verge)
—
Join the conversation on Twitter and Facebook.