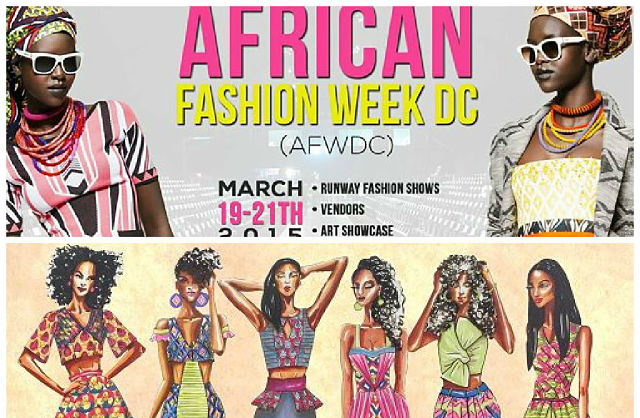 Tadias Magazine
By Tadias Staff
Published: Thursday, February 26th, 2015
Washington, DC (TADIAS) — Mark your calendar for the first-ever African Fashion Week DC (AFWDC), which kicks off next month with a reception and art exhibition at Kabin Lounge on March 19th, followed by a runway show at The Washington Post Conference Center on March 21st.
The two-day event promises to showcase emerging and established African designers from the Washington D.C. area and beyond. "The main event leads with an action packed schedule; accompanied by shows featuring African designers, retail vendors, entertainers, art, businesses, models, celebrity appearances and much more," organizers said in a press release.
The featured brands include: Léonché International, Indigo Tides, Kemris Collection, Kranto Kolection, Levie, Lola, Ohemaa Couture, Pazel, Simply Cecily, SL Fashion Design, Tique Design, Unique By Reelia and Everything Rouge.
"The beauty and intricate detailing of African fabric, textile and design coupled with the latest African fashion trends are the growing source of fascination and demand for African fashion and art," the press release added. AFWDC attendees are sure to be inspired by the high profile African designers currently working with Haute Couture and Ready-to-Wear. Additionally, attendees will be introduced to emerging designers and find eco-friendly, luxury goods and fashion accessories."
Video: Meet the designers and models featured at African Fashion Week DC (FOX 5 DC)
DC News FOX 5 DC WTTG
—
If You Go:
FWDC Kickoff Industry Networking & Cocktail Happy Hour
Featuring an African Art Showcase by Chris Damola
Location: Kabin Lounge
337 Connecticut Avenue Northwest, Washington, DC 20036
Date: March 19, 2015
Time: 6:00pm to 11:00pm
AFWDC Runway Fashion Show and Vendors
Location: The Washington Post Conference Center
1150 15th St. NW, Washington, DC
Date: March 21, 2015
Time: 4:00pm to 10:00pm
AFWDC After-Party
Location: Stone Fish Lounge
1708 L Street NW, Washington, DC
Date: March 21, 2015
Time: 10:00pm to 3:00am
More info about African Fashion Week DC at www.afwdc.com
Join the conversation on Twitter and Facebook.