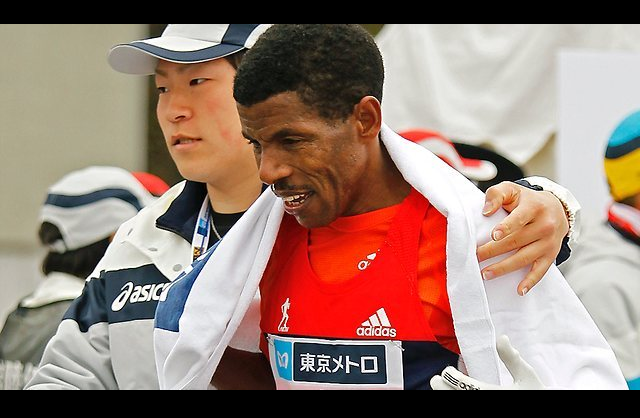 Sports News Update
Haile Gebrselassie Tweets "My Olympic Marathon Dream is Over" and Ethiopia announces a preliminary Olympic marathon team missing a few stars. Read more.
Should Haile Consider Retirement?
PARIS (AP) — For two decades, Haile Gebrselassie enchanted fans of running with his mastery of the art.
Because he is such a rare athlete, because of his infectious joie de vivre and because he is an all-around admirable guy, it's now somewhat stressful to see him age. The wear and tear of a life that started on a poor, Ethiopian farm are making the double Olympic champion and four-time world champion in the 10,000 meters look increasingly mortal.
The world records in the marathon, 5,000 and 10,000 that once were his belong now to others. With his 39th birthday looming in April, Gebrselassie will never get them back. His ambition of competing at a fifth Olympic Games, in London this July, appears to be fading. His most recent marathon wasn't close to good enough to warrant a place on Ethiopia's Olympic team.
Which all begs the question: Should Gebrselassie retire? It's not that "The Emperor" of long-distance running suddenly has no clothes. But could he undermine his reputation by competing for much longer? Having done so much right over the years, is he getting the end of his career wrong? Is there such a thing as a messy retirement and, if so, can it tarnish the way in which an athlete is remembered?
Read more
—
Related:
Haile Finishes Fourth in Tokyo | Atsede Habtamu Wins Women's Race (AP)
Haile Gebrselassie: Olympic hopes in trouble (Sky Sports)
Haile Gebrselassie Shoots for Ethiopian Olympic Team in Marathon (Sports Illustrated)