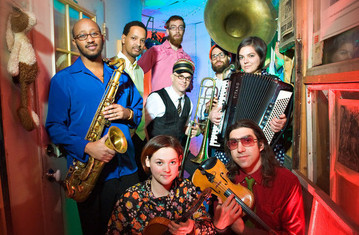 Tadias Events News
Published: Saturday, March 14, 2009
Debo to Perform in Cambridge, NYC, Philadelphia,
and Washington, DC
Jamaica Plain, MA: Debo Band has been cultivating a small but enthusiastic following in the loft spaces, neighborhood bars, and church basements of Boston for the past three years. But very soon, they will be playing for a much larger audience. In May, Debo will travel to Ethiopia to perform at the Ethiopian Music Festival in the capital, Addis Ababa. Their engagement is supported by Mid Atlantic Arts Foundation through USArtists International with support from the National Endowment for the Arts and the Andrew W. Mellon Foundation. Now the band is getting ready with a busy schedule of hometown shows and will perform for the first time in front of audiences in New York, Philadelphia, and Washington, DC.
Ethiopian-American jazz saxophonist Danny Mekonnen, a PhD candidate in ethnomusicology at Harvard University, founded Debo in 2006 as a way of exploring the unique sounds that filled the dance clubs of "Swinging Addis" in the 1960s and 70s. Danny was mesmerized by the unlikely confluence of contemporary American soul and funk music, traditional East African polyrhythms and pentatonic scales, and the instrumentation of Eastern European brass bands. Ethiopian audiences instantly recognize this sound as the soundtrack of their youth, carried from party to kitchen on the ubiquitous cassette tapes of the time. And increasingly, erudite American and European audiences are also getting hip to the Ethiopian groove, largely through CD reissues of Ethiopian classics on the Ethiopiques series – not so coincidentally, some of the same people who are behind the Ethiopian Music Festival in Addis.
Debo Band draws audiences from both mainstream America and Ethiopian American communities. They have opened for legendary Ethiopian greats such as Tilahun Gessesse and Getatchew Mekuria, who has lately been collaborating with Dutch punk veterans The Ex. Debo's unique instrumentation, including horns, strings, and accordion, is a nod to the big bands of Haile Selassie's Imperial Bodyguard Band and Police Orchestra. Their lead vocalist, Bruck Tesfaye, has the kind of pipes that reverberate with the sound of beloved Ethiopian vocalists like Mahmoud Ahmed and Alemayehu Eshete. Although Debo Band is steeped in the classic big band sound of the 1960s and 70s, they also perform original compositions and new arrangements along with more contemporary sounds such as Roha Band and Teddy Afro.
If you go:
Tour Dates:
Thursday April 9, 8pm – Club Passim, Cambridge
with Fishtank Ensemble (San Francisco)
47 Palmer St.
Cambridge MA 02138
http://www.clubpassim.org/
$12
Friday April 10, 10pm – L'Orange Bleue, NYC
430 Broome St.
NY, NY 10013
http://www.lorangebleue.com/
$10
Saturday April 11, 7:30 pm – Crossroads Music Series, Philadelphia
with Belasco/Jamal Trio (Philadelphia)
Calvary United Methodist Church
48th Street and Baltimore Ave.
Philadelphia, PA 19143
http://www.crossroadsconcerts.org/
$8-12
Sunday April 12, 10pm – Babylon FC, Falls Church, VA
with East Origin Band (Washington, DC)
3501 South Jefferson St.
Falls Church, VA 22041
http://www.babylonfc.com/babylounge/
$10
Press Contact:
Danny Mekonnen
(903) 491-4118, cell
danny.mekonnen@gmail.com
http://www.myspace.com/deboband