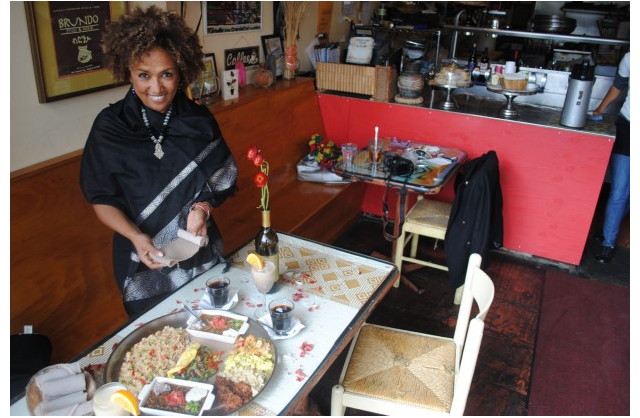 By: Ryan Phillips | OaklandNorth.
When Fetlework Tefferi was a little girl in Michigan in the late 1980s, people would tell her "Ethiopians are starving" and that "You must be glad you're here—you're eating."
"I was thinking 'Why are they saying that?'" says Tefferi, who is of Ethiopian descent and moved to the US from Ethiopia at a young age. "I did not understand it. I was thinking, 'They must not know us. They don't know the food I was eating when I was growing up.'"
Tefferi is bright-eyed and animated, with short brown curly hair that has streaks of blonde in it. She's sitting behind the desk of her office in the Brundo Culinary Studio, which she owns and recently opened inside the American Steel warehouse on Mandela Parkway in West Oakland. Tefferi also owns an Ethiopian spice shop by the same name, which is located on Telegraph Avenue next door to Café Colluci, the restaurant she has owned for 20 years.