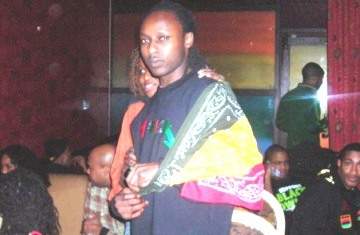 This is an event organized by The Mic Goes Global (Bridging the Cultural Gap Through Music) – the brainchild of Ethiopian-born Sirak Getachew (D.J. Sirak) & his friend Bintou of Staka Productions. Arriving from Addis Ababa to the graffiti-filled streets of the Bronx, D.J. Sirak was introduced to the hip-hop phenomenon at an early age.
"I remember arriving at New York's JFK airport at the age of nine and settling in a Bronx neighborhood. Being the only Ethiopian on the block and at school, it was hard to keep my own culture alive", he says.
"As time went on, however, hip-hop became my means of bridging the cultural gap between myself and my new community."
In the short time since the program began, it has gained recoginition from various media organizations including, MTV, The Source, The Village Voice, Tadias Magazine and local TV stations.
"Hip-hop has helped me fuse my past and my heritage with my present in an artistic and socially meaningful way", he tells us. "Its time to get global!"
Click here to see photos from this and other events or visit Liben's Events List at www.libenslist.com