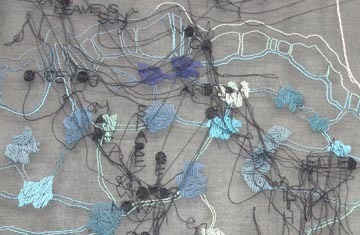 Tadias Events News
Published: Thursday, March 26th, 2009
(Opening Reception: Thursday, March 26th, 6-8 pm)
New York, NY – The Project is pleased to present Jessica Rankin's second solo exhibition at the gallery featuring her embroidery works and a new series of drawings and watercolors. Rankin's hand-embroidered panels of organdy resume her exploration of memory, geographic displacement and the passage of time. Embedded with personal, cartographic and scientific information, these detailed mosaics have also been inspired by the Enuma Elish, an ancient Babylonian epic poem about the creation of the universe.
Meandering between diaristic excerpts, poetic interludes and philosophical proposals, Rankin's meticulously stitched textual patterns produce a field of non-linear associations reflecting the fragmentation and cross-referencing of lived experience in memory. With a visual vocabulary that relies heavily on the topographical and celestial—constellations, planets and river deltas, among others—Rankin integrates text and image to construct what she refers to as "brainscapes," which function as abstract portraits of journeys, both physical and mental. In reference to past work, this new series of embroidery works were completed with a looser, more painterly approach with threads hanging from the organdy canvas. Delicately pinned an inch away from the wall, the translucent sheets of organdy allow Rankin's handiwork to cast shadows, thereby adding a further level of depth and definition.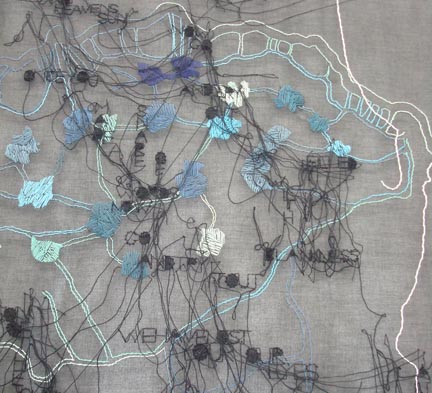 Above: Image: Untitled (detail), 2009, embroidery on organdy, 107 x 90
inches. (Courtesy of the artist and the gallery The Project).
Rankin's drawings and watercolors pursue an alternate path in which details of landscapes come into focus. Trees, vegetation, rock formations, horizons, the Sun and the Moon are all featured as points of meditation for gestural brushstrokes and pooling washes of color.
Rankin was born in Sydney, Australia in 1971 and currently lives and works in Berlin, Germany. Recent solo exhibitions include White Cube, London (2007), P.S. 1 Contemporary Arts Center, Long Island City, NY (2006) and The Project, New York (2005), as well as selected group exhibitions at the Salina Art Centre, Salina, KS (2006) and Carlier l Gebauer, Berlin, Germany (2004), Artists' Space, New York (2003), Greenberg Van Doren Fine Art, New York (2003), The Project, New York (2003).
If you go:
Opening Reception: Thursday, March 26th, 6-8 pm
The Project
37W 57th Street, 3rd floor
New York, NY 10019
T:+1 212 688 1585
F:+1 212 688 1589
www.elproyecto.com