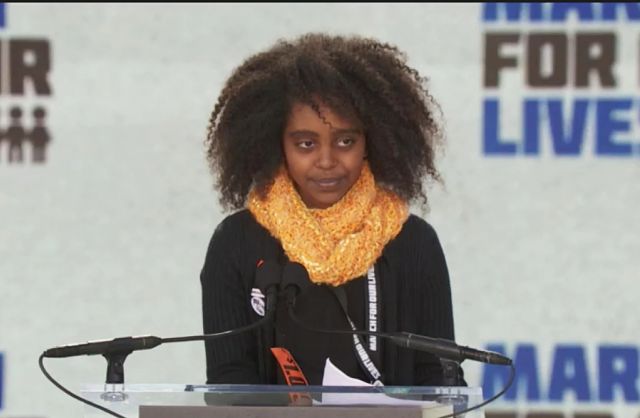 The story behind 11-year-old Naomi Wadler and her March for Our Lives speech
The youngest speaker at the March for Our Lives rally Saturday made one of the biggest splashes with an eloquent speech urging the nation not to forget black women, who are disproportionately represented among the victims of gun violence.
Naomi Wadler, an Alexandria fifth-grader, became a hashtag, a meme shared around the world, praised by celebrities who included actress Lupita Nyong'o and comedian Eddie Griffin. The 11-year-old was heralded as future presidential material.
But Wadler hasn't seen any of that: She's not on social media.
"I have been accustomed to not Google myself, so I haven't seen everything," Wadler said Sunday in a phone interview during her spring break beach trip. "My speech might not have caused a giant impact on society, but I do hope all the black girls and women realize there's a growing value for them."
That was the focus of her 3-minute, 30-second speech, which was repeatedly interrupted by roars of applause.
"I am here to acknowledge and represent the African American girls whose stories don't make the front page of every national newspaper, whose stories don't lead on the evening news," Wadler said. "I represent the African American women who are victims of gun violence, who are simply statistics instead of vibrant, beautiful girls full of potential."
Wadler was born in Ethi­o­pia and attends a school where nearly six in 10 students are white, a third are Hispanic and 6 percent are black. Her mom is white, and her dad, a recreational hunter, is black.
Read the full article at washingtonpost.com »
—
Join the conversation on Twitter and Facebook.