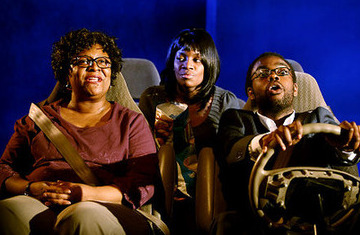 Above: "The plot revolves around Abebe (William J. Harper),
an Ethiopian wanna-be preacher and water conservationist
out to save souls and the planet." – New York Daily News
The New York Times
THEATER REVIEW | 'A COOL DIP IN THE BARREN SAHARAN CRICK'
By CHARLES ISHERWOOD
Published: March 29, 2010
If words were water, the drought problems so lengthily discussed in the new play by Kia Corthron, "A Cool Dip in the Barren Saharan Crick," would evaporate pretty quickly. The title alone would suffice for a sponge bath. The subject of water actually consumes a large portion of the dialogue in this venturesome but disjointed drama about a young African man studying theology and ecology, and the American family that harbors him during his college years. Abebe (William Jackson Harper), the idealistic central character, continually spouts dire prophecies and dismaying statistics about abusive water policy the world over, like a spigot that cannot be shut off. He rails against the World Bank's dam-building ambitions back in his home country, Ethiopia. He reveals that while a person in the United Kingdom uses 31 gallons of water a day, an American splashes through 151. Read more.