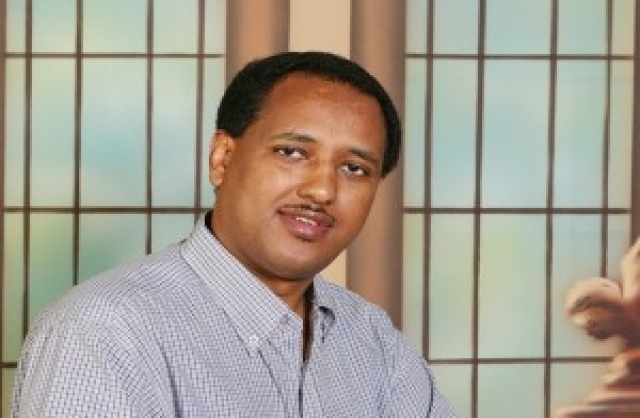 Tadias Magazine
By Tadias Staff
Published: Monday, March 29, 2010
New York (Tadias) – As all eyes are focused on the upcoming May 2010 elections in Ethiopia, and amid talks of blocking VOA's Amharic program, a new media tool is changing the way people retrieve Ethiopian news online.
Developed by Journalist Abebe Gelaw, a 2009 John S. Knight Journalism Fellow at Stanford University and a 2010 World Economic Forum's Young Global Leaders honoree, The Addis Voice Toolbar delivers up-to-the-minute breaking Ethiopian stories from news sources across the globe.
We followed up with Gelaw to learn more about the Addis Voice Toolbar. Below is our recent interview with him.
Tadias: Could you please tell us a bit about the Addis Voice Toolbar? How does it work?
Abebe Gelaw: The Addis Voice Toolbar is a unique and innovative digital tool that allows users multimedia access to information. Traditionally, people have to actively search for information, visit different websites to gather information. It occurred to me that this traditional way of searching for information is not only time consuming but also limiting in terms of multimedia experience, which is the most powerful and dynamic feature of the Internet.
I created a simple toolbar using the Conduit platform in order to make my personal web experience easier by making the kind of content that I regularly want on a menu. The beauty of the platform is that it allows you to take full control of your toolbar and add your own innovative ideas, content and widgets.
Once I created a toolbar for my own use, I realized that I could create a more useful and powerful toolbar that can help deliver the kind of information and content that any Ethiopian can potentially seek. The final product, which has taken me nearly a year to design, redesign, experiment, improve and upgrade, has now been installed on nearly 13,000 computers across the world. If each computer is used by at least three people, it means around 42,000 users are currently using our toolbar.
As anyone using the Addis Voice Toolbar knows, you don't need to go to Google to look for information because the toolbar offers a range of search engines including the best features of Google. You can easily use the menu to access Google to search any content you want like news, images, videos, books and blogs. You can also search for music, lyrics, Wikipedia, quotes, free software and dictionary.
While browsing the Internet, you may want to listen to music. You don't need to search music as clicking the music button on the toolbar will open a music player that automatically gives you access to hundreds of popular songs. You may also want to listen to a radio webcast such us the VOA or Deutsche Welle while you are browsing the Internet or doing something else on your computer. If you use our toolbar, you don't need to go to VOA's website to listen to the latest programs as the toolbar has two radio widgets, one for popular Ethiopian radio webcasts and another one for international broadcasts such like NPR, BBC, World Music and Premier.
Watching TV programs, playing games, checking up to date weather forecast are among the many features embedded on this toolbar. I believe we have made the online experience of our users much easier and more enjoyable.
Tadias: So does this mean we can download the toolbar and have immediate access to breaking Ethiopian news without opening our browser for each news website? Is that correct?
AG: Absolutely! By using Really Simple Syndication (RSS) technology, the toolbar brings to users neatly organized breaking news and fresh content from so many sources. The content on the RSS menu is updated every 15 minutes, which means the toolbar provides you fresh content whenever you want it. Though it is possible to embed RSS on any website, it is difficult to provide a comprehensive selection of fresh content in a way that our toolbar is capable of delivering automatically.
At any time, the toolbar delivers over 400 recently received news and commentary headlines from credible sources that are linked back to their original sources. It is like selecting from a restaurant menu; you choose what you find more attractive to your appetite. It is safe to say that as far as the appetite for information and multimedia content is concerned, the toolbar serves as a comprehensive menu. You select what you want read, watch or listen to.
Tadias: Is the toolbar limited only to news sources or does it include entertainment and lifestyle websites as well?
AG: The toolbar is not just limited to news content. It informs, educates, entertains and most importantly empowers users. You may wonder how a simple toolbar can empower users. If we agree on the basic premise that information is power, here is a tool that provides you with a lot of information that you cannot normally get on one site. So if you look at the content that the toolbar delivers at any time it is wide ranging. If you are not even satisfied with what is on offer on the menu, you can use the search facilities on the toolbar to look for the content that you seek.
Tadias: We also understand that Addis Voice Toolbar has other benefits, such as allowing users to access websites in countries where that specific URL maybe blocked. Could you please talk about this feature? How does it work?
AG: Yes, it is true. The toolbar has an embedded proxy that serves users in countries like Ethiopia where the government has deployed devices and employed people that try to jam radio stations, close down newspapers and censors content on the Internet. I find this totally pathetic as the job of a government is simply to serve the people, provide protections, promote their interests, protect their freedom and create a conducive environment that enables citizens to attain their fullest potential. It is a sad reality that the government in our country seems to be committed to suppressing our freedom and the basic rights enshrined in the constitution which is only alive on paper. In the process of pursuing its narrow objectives, which appears to be to stay in power at any cost, the government has been trying to suppress the inconvenient truth. They seem to realize the fact that the truth will eventually subvert the system which is perpetuating oppression and tyranny, the very things that the current rulers of Ethiopia had fought to abolish.
You asked me to tell you how it works. I don't mind telling you how it works. But at the same time I prefer to take caution as there are people out there paid to frustrate the efforts of their fellow citizens to access uncensored content and information.
Tadias: Where can people download the toolbar and how much does it cost?
AG: Anyone in any part of the world can download the toolbar at www.addisvoice.com/toolbar.htm. It is absolutely free. We have no plans to charge for this service as our aim is not to make profit but to enable Ethiopians to have as much access to information as possible.
Tadias: Is there anything else you would like to share with our readers?
AG: I would like to encourage people to test this unique toolbar. Users who have already been making the best of it may need to recommend it to their friends and loved ones. We are also looking into ways of networking users around the world as well as creating a platform where people can also share content and exchange their views and ideas.
Tadias: By the way, congratulations on your recent recognition by the World Economic Forum (WEF) as one of their newest Young Global Leaders (YGL) honorees! Could you tell us a little bit about what a Young Global Leader is?
AG: Thank you! So many people have asked me the same question. Just to clarify, being a YGL honoree is not just an honor. It is becoming a member of one of the most vibrant communities at the World Economic Forum. By virtue of being a YGL, I have been admitted as an active member of the Forum of Young Global Leaders. Members of this forum, most of whom are the most innovative and entrepreneurial people on earth, have an enormous impact. When the founder and Executive Chairman of the World Economic Forum, the distinguished professor Klaus Schwab, envisioned it, he wanted to create a powerful global forum to have a real and tangible impact on the future of our world by bringing together bold, innovative and forward looking young people who aspire to change the world for the better. It is a great privilege to be part of this vibrant group of people.
Tadias: Thank you Abebe and good luck.
AG: You are most welcome and I thank you so much too.
—–