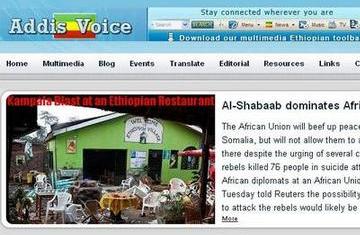 Above: Addis Voice announced the official re-launch of its site.
The new cutting-edge website integrates a number of new and
upgraded multimedia features. The Addis Voice site screen shot.
Tadias Magazine
By Tadias Staff
Published: Tuesday, July 27, 2010
New York (Tadias) – Addis Voice has unveiled its newest online design featuring a significant relaunch of its website and an upgraded version of its customizable toolbar.
Developed by Abebe Gelaw – the first Ethiopian-born journalist to be awarded the coveted Stanford University's Knight Fellowships for international journalists and the 2010 World Economic Forum's Young Global Leaders honoree – The Conduit powered Toolbar delivers up-to-the-minute breaking Ethiopian stories from news sources across the globe.
"With increasing demand for service upgrade in the face of repeated technical and server problems with Bravenet, we are certain that the new site and Bluehost server will not only address the issues but also help the smooth and seamless running of the website," the organization said in a press release.
"Addis Voice is also excited to report that its multimedia toolbar has become a powerhouse of information and must-have digital tool that delvers up-to-the-minute news, radio podcasts, video streaming, live webcasts, weather updates and other essential gadget to Ethiopians all over the world."
—-
Related from Tadias Archives:
Addis Voice Toolbar Delivers Breaking Ethiopian News To Your Desktop