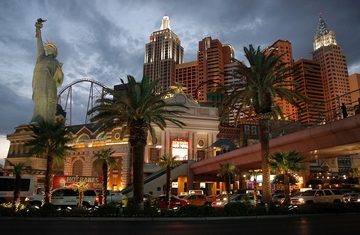 Above: A large contingent of African business executives and
their American counterparts are scheduled to meet in Nevada.
Tadias Magazine
Events News
Published: Monday, July 26, 2010
New York (Tadias) – Over a thousand African business leaders and their American counterparts are expected to convene in Las Vegas in early November for what organizers say will be the biggest convention of its kind in the United States. (This event has been rescheduled)
Top executives from various industries including Telecom, Energy, Banking, Mining, Agriculture, Airlines, Tourism as well as Ministers of Trade & Investment from across the African continent will gather for the 3-day conference scheduled from November 15 to November 17, 2010. Joining them are American business leaders, U.S. Administration officials, along with African Ambassadors, and representatives of several multilateral agencies.
According to Ethiopian-American social entrepreneur Ted Alemayhu, whose firm Africa-USA Trade & Investment is hosting the event in Las Vegas, the conference focuses on boosting investment as well as encouraging large-scale networking of entrepreneurs.
"The goal is to help create strategic economic partnerships through mutually beneficial trade and development initiatives," says Mr. Alemayhu. "The conference will bring together key players in both regions to discuss business opportunities within the framework of establishing sustainable long-term relationships."
A similar event focusing on civil society and the private sector is also scheduled in Washington next month. According to the White House, President Obama will host a town hall meeting with 120 young leaders from 40 countries to discuss their vision for transforming their societies over the next fifty years.
"Africa is becoming the new frontier for emerging market investors," Mr. Alemayhu said. "Once, talk of investment in African countries was dismissed as idealism. Now Africa is increasingly attracting major global investors."
According to Mr. Alemayhu: 'In addition to strengthening and facilitating the commercial relationship between the United States and Africa, the convention will also serve to raise Africa's investment profile in the U.S. by creating strategic and developing critical contacts and providing a forum for the exchange of information and ideas."
If You Go:
The event is scheduled to take place in Las Vegas, Nevada, from November 15 to November 17. To register or other inquiries, please send an email to info@africanbizconvention.com.
Cover Image: Illustrative stock photo.
Watch related video: Synergies africaines accueille le Président fondateur de USDFA
Ted Alemayhu, who is also Founder & CEO of US Doctors For Africa, being recognized in
that capacity by the President of Cameroon.