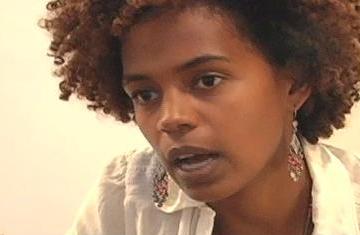 Tadias Magazine
Tadias Staff
Published: Sunday, July 25, 2010
New York (TADIAS) – Ethiopian photographer Aida Muluneh has been named the recipient of the 2010 CRAF's International Award of Photography at a ceremony in Italy.
The 2010 prize, which was given to Aida by the scientific commission of CRAF, has previously been awarded to notable figures of the international photographic scene, including Charles Henri Favrod, Erich Hartmann, Henri Cartier-Bresson, Peter Galassi, Paolo Gasparini, Josef Koudelka, Joan Fontcuberta, Anne Cartier-Bresson, Naomie Walter Rosenblum, Alain Sayag, Margit Zuckriegl, Erich Lessing and Bernard Plossu.
"Aida Muluneh directs her attention as a photographer in particular towards the women of the African diaspora, concentrating on the bonds and the disagreements between the generations, the joys and the pains of life," the organization said in explaining its reasons why it chose to honor the Ethiopian photographer. "Her subjects transmit, with a mixture of grace and power, the vicissitudes related to the phenomenon of the dispersion of the African people."
The prize committee said the accolade is also a recognition of Aida's continued efforts to establish a photography educational-institution in her native country. "In the year that CRAF has dedicated to Africa with the exhibit 'Glimpses of Africa', the International Award of Photography awarded to this young and very accomplished photographer – who is what's more socially committed to the creation of a school of photography dedicated to young people, in Addis Abeba – is also intended to be in recognition of all of the young and emerging African photographers," the group said.
In the following interview with Tadias.com, Aida talks about photography, working in Ethiopia, and her new book entitled Ethiopia: Past/Forward.
We note that photos displayed during her discussion of the book are not necessarily included in the book. The film clips and music, which accompany her interview, are part of the artist's recent documentary movie also entitled Ethiopia: Past/Forward.
WATCH

The interview with Aida Muluneh was taped in New York prior to her most recent award. ( Kidane Films)