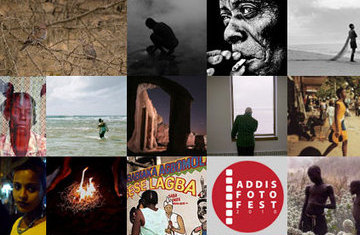 Above: The Addis Foto Fest is taking place at various venues
throughout Addis Ababa — from Dec. 7th to Dec. 11th, 2010.
Tadias Magazine
Events News
Updated: Wednesday, December 8, 2010
New York (Tadias) – The inaugural Addis Ababa international photography festival, Addis Foto Fest, is underway in Ethiopia this week, and showcases a diverse array of work from local and international photographers and artists using various mediums. The week-long calendar of events includes several exhibitions, film screenings, academic discourses and other workshops.
Directed & curated by Aida Muluneh – winner of the 2010 CRAF's International Award of Photography - the installations include exhibitions highlighting images by established and emerging international photographers, while bringing to the foreront contemporary talents from the African continent. Participants include Chester Higgins Jr, Antonio Fiorente, Zacharias Abubeker, Rosa Verhoeve, Jean-Baptiste Eczet, Ralf Baecker, Endalkatchew Tesfa Gebreselassie and Petterick Wiggers.
In their press release organizers stated: "The first edition of Addis Foto Fest brings together photographers from Africa and the Diaspora, in order to foster a dialogue through various exhibitions, concerts, panel discussions, residency programs, portfolio reviews, film screenings, slideshow presentations & much more." According to the group's web site: "A special tribute will be given to legendary photographer Shemelis Desta, who will come from London for the opening of the show with the support of the British Council." The former court photographer is credited for his historical treasure-trove capturing official state activity in Ethiopia between 1963 and 1982. Other highlights include screenings of "Mo and Me", a documentary directed by Salim Amin, "Arrested Development", a 3 minute video made in 2003 by British artist Grace Ndiritu, "Invisible Borders", a collective project presented by Emeka Okereke, as well as slideshows entitled "On the Roof" and "The Brooklyn Photo Salon" presented by OTR Project and Regine Romain respectively.
The events take place at various venues throughout Addis Ababa from December 7th to December 11th. The festival is sponsored, among others, by the African Union & the Delegation of the European Union to the African Union, Prince Claus Fund, AECID, Goethe-Institut, British Council, Alliance éthio-française, CulturesFrance, Heinrich Böll Foundation, the Embassy of Canada and the Addis Ababa University.
If you go:
Details are avilable at addisfotofest.com.
Video: Aida Muluneh talks photography with Tadias