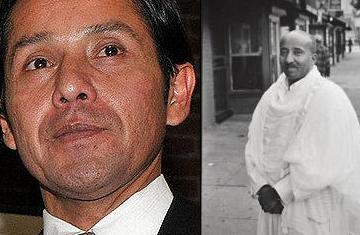 Above: Loza (left) was charged with two counts of bribery on
allegations he accepted $1,500 in payments from Abdulaziz
Kamus (right), an advocate for Ethiopian cabdrivers who was
trying to secure advantages for that community in the city's
taxicab market.
The Washington Post
By Tim Craig
Friday, April 2, 2010
A federal grand jury brought additional charges Thursday against Ted G. Loza, who was D.C. Council member Jim Graham's chief of staff before he was arrested last fall, accusing him of accepting or soliciting more than $30,000 in cash, trips, limousine rides and meals in exchange for pursuing legislation favorable to the taxicab industry. Read more.
Related:
D.C. Taxi Probe: Who Are These People? (Washington City Paper)
Thirty-Nine Individuals Charged with Conspiring to Bribe Chair of D.C. Taxicab Commission (FBI)
Taxi Mogul Solomon Bekele Speaks (Washington City Paper)
Video: 29 Plead Not Guilty In Taxi License Case