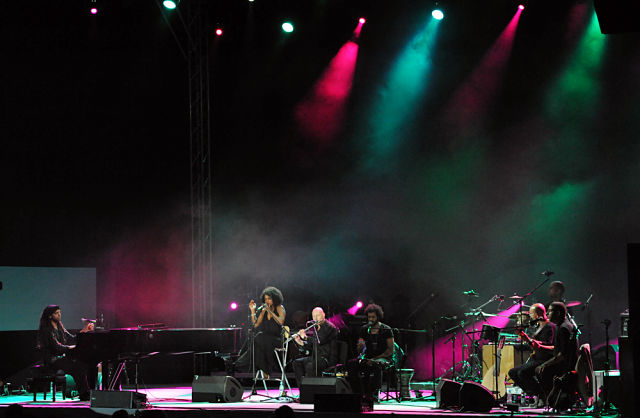 Tadias Magazine
By Tadias Staff
Published: Friday, April 10th, 2015
New York (TADIAS) — The Idan Raichel Project — led by the acclaimed Israeli singer and songwriter Idan Raichel who is known for his trademark electronics fusion of Hebrew, Arab and Ethiopian music — plays at the Beacon Theatre in New York on Sunday, April 12th.
Beacon Theatre announced: "In the past four years, Raichel has released a 3-disc live album set, written numerous songs and toured with GRAMMY winner India Arie, performed at the Nobel Peace Prize awards ceremony, co-written a song calling for racial harmony with Israeli President and Nobel Peace Prize laureate Shimon Peres, performed for President Obama and family at the Kennedy Center on Martin Luther King, Jr. Day, performed at the ceremony inaugurating the Martin Luther King, Jr. Memorial in Washington DC, sold out shows at Radio City Music Hall and other major venues worldwide, toured India, South America and Africa and released the highly praised Tel Aviv Session album with Malian guitarist Vieux Farka Touré."
"The album title Quarter To Six, is based on a quote by the influential Israeli writer/actor/singer Yossi Banai, who passed away in May 2006. In one of his works Banai describes seeing his mother staring silently out a window. With concern Banai asks if she is doing well, and his mother responds, "It feels like it is quarter to six. It's going to be dark soon." This deceptively simple statement resonated with Raichel who states, "This quote really affected me. It's a way to describe the end of life. People learn to accept this time of the day, to come to terms with their life, in peace. And I thought of this moment in my life as also an interesting junction, a crossroads." Raichel adds, "After ten years with the Project, I feel we have reached a time of change and reflection, a transition period, both musically and personally."
If You Go:
Sunday, April 12th, 2015
Beacon Theatre
New York, NY
Price Range: $39.50 – $99.50
Click here to get tickets
Related:
The Nile Project's Mesmerizing New York Concert at Lincoln Center (Audio)
Join the conversation on Twitter and Facebook.