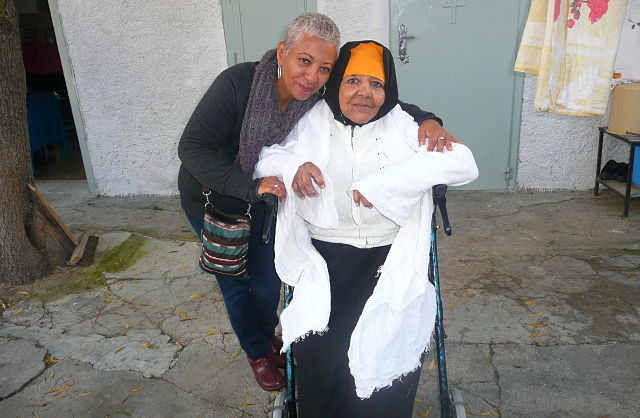 Tadias Magazine
By Tadias Staff
Published: Sunday, April 10th, 2016
New York (TADIAS) — In 1998 the renowned Israel-based Ethiopian nun, composer, and pianist Emahoy Tsegué-Maryam Guèbrou, who was then 75, wrote a pleading letter to her niece in the United States imploring her for assistance in promoting her music. Since then, thanks in large part to the determination of Hanna M. Kebbede — her niece who resides in Falls Church, Virginia — Emahoy's music has reached an international audience. A compilation of her work was released on the Éthiopiques (Volume 21) CD series in 2006. And now Hanna, who also heads the Emahoy Music Foundation, is preparing to produce a documentary film about her aunt's fascinating life, spanning more than nine decades and three continents.
"At the time that Emahoy had requested my help she had just lost two of her three surviving sisters, including my mother, within a 6-month period," Hanna recalled speaking about the letter she received 18 years ago that inspired her to assist her aunt. "She was worried that she may not have much time left of her own and wanted me to distribute her music before she died. She had saved her stipend from the monastery to pay for it and used the proceeds to rebuild a church in Jericho," Hanna told Tadias.
It would take Hanna another three years before she got in touch with Francis Falceto from the French label Buda Musique — producers of the extensive éthiopiques CD collection. The label agreed to issue Emahoy's Piano Solo in its 21st volume, and since then Hanna has established the Emahoy Music Foundation, that runs an annual music camp in the summer for children aged 6-12 as well as provide scholarships for low-income kids to receive private music lessons.
"We also invite musicians to play Emahoy's music to keep her legacy alive," Hanna added. "We collaborate with other organizations and fund projects related to young people and education. For example, in 2014 we made a financial contribution to a youth program in Ethiopia through the Wegene Foundation."
In addition, the foundation fields numerous requests for music licensing (Emahoy has over 150 compositions) and calls from filmmakers to do a documentary about Emahoy. "Every time I have conversation with these filmmakers, I think to myself that her story has to be set in the context of her upbringing in Ethiopia," Hanna said. "There are two sides to her life — one is her music and the other is her religious life."
How did she navigate the conflict between these two worlds? That's the central question that Hanna hopes to explore in her upcoming documentary. She plans to start shooting the film in late May both in Ethiopia and Israel.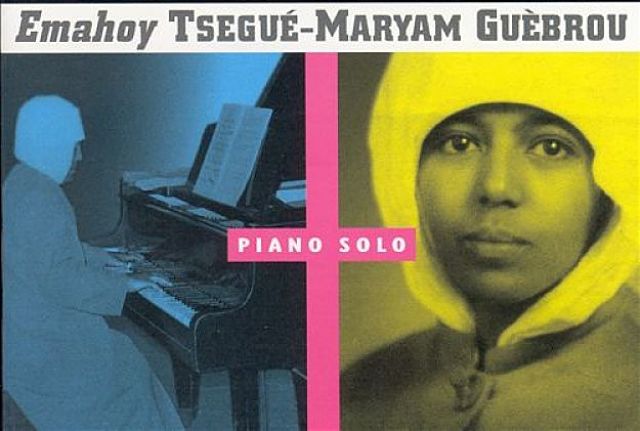 (Cover of Ethiopiques, Vol. 21 CD)
In many ways Emahoy's long life mirrors that of the tumultuous history of Ethiopia in the past 90 years. She was taken prisoner of war, along with her family, during the fascist occupation of Ethiopia in the late 1930s. She lived to witness the defeat of the Italians, and became a student of religion in Gondar in the 1960s (studying Saint Yared's 6th-century music). And barely a decade later she would survive the mayhem following the 1970′s communist revolution. It was not until 1984 that she fled Ethiopia's Derg era to her current residence at the Ethiopian Monastery of Jerusalem.
According her bio on the foundation's website, Emahoy Tsegué-Maryam Guèbrou, was born "Yewubdar Gebru" on December 12, 1923 in Addis Abeba and at the age of six was sent to boarding school in Switzerland where she studied violin and piano. Returning to Ethiopia in 1933 she was taken prisoner along with other family members in 1937 by Italians who sent them to the isalnd of Asinara and later Mercogliana. Following the end of the war Yewubdar resumed her music studies in Cairo, and returned once more to Ethiopia to briefly work at the Ministry of Foreign Affairs before secretly fleeing Addis Ababa to enter the Guishen Mariam Monastery in Wello at the age of 19. At the age of 21 she was ordained as a nun and received the title of Emahoy Tsege Mariam where she continued her music and wrote compositions for violin, piano and organ concerto. Emahoy's first record was released in 1967 in Germany through the assistance of Emperor Haile Selassie with subsequent piano compositions released in 1973, the proceeds of which were used to assist orphanages.
At Emahoy Tsege Mariam Gebru's request both her published and unpublished compositions have been donated to her foundation to continue to provide disadvantaged children with the opportunities to study classical and jazz musical genres.
"Her life is full of teaching moments for young people, artists and students," Hanna said. "She has endured a lot. It is a uniquely Ethiopian story, but at the same time the lessons are universal."
—
You can learn more and support the film project at https://www.gofundme.com/pmr3b54k
Related:
From Jerusalem with Love: The Ethiopian Nun Pianist
Join the conversation on Twitter and Facebook.