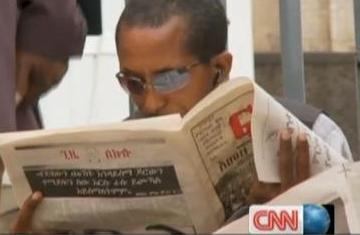 Above: Newspaper landlords in Ethiopia rent out newspapers to
people too poor to buy them. Dozens of readers rent the papers
for up to 30 minutes, looking for news and jobs. (CNN reports.)
Watch:

In Other News:
Chicago Club Wild Hare to Close, New One to Open in Ethiopia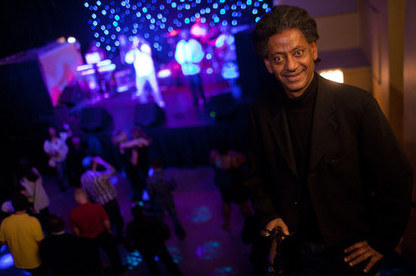 Ethiopian owner-musician Zeleke Gessesse will close his club and prepare
to open a new one in his homeland. (Andrew A. Nelles/Chicago Tribune)
April 19, 2011
Chicago – Wild Hare, the Ethiopian owned iconic reggae club in Chicago is preparing to close shop. The owner says he is returning to Ethiopia to open a similar nightspot, the Chicago Tribune reports.
"We came to Chicago as political refugees from Ethiopia – it was a tough time and there was civil war," says Gessesse, remembering the arduous journey he, a brother and a bandmate endured to get here in 1978 (including several days of trekking through the African desert).
"I think now is a good time to go home and get involved in the transformation of the country."
Per the newspaper: "Ethiopia, says Gessesse, is now booming economically, its surging population of citizens under age 35 making the place ripe for his planned Wild Hare Ethiopia."
"There is not a club like this in that country," says Gessesse, 53.
Alas, without the Wild Hare, there won't be one in Chicago, either.
"It's really the only club – aside from maybe Exedus and some offerings here and there – where you can hear reggae on a daily basis," says Carlos Tortolero, program manager for the Chicago Office of Tourism and Culture. (Tortolero refers to Exedus II, at 3477 N. Clark St., which presents reggae four nights a week).
Read more at the Chicago Tribune.
Related news:
Ethiopian Food in L.A. — A Fabulous New Dining Experience (The Huffingtonpost)
New Jersey: Mesob Ethiopian Restaurant Receives National Restaurant Association Award
Watch: