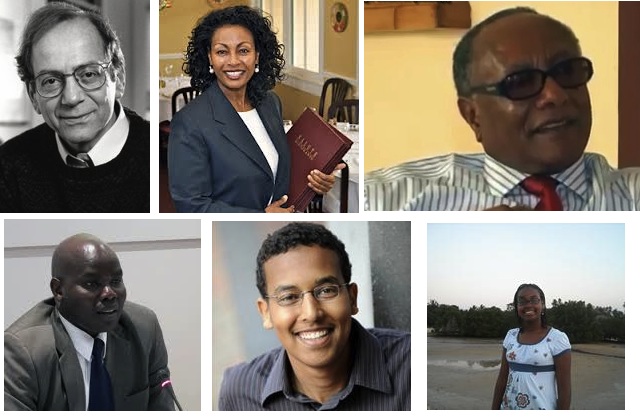 Tadias Magazine
Events News
Published: Wednesday, April 23rd, 2014
Washington, D.C. (TADIAS) — Professor Donald N. Levine, Obang Metho, Menbere Aklilu, Ambassador Zewde Retta and the late Rachel Beckwith, along with five "outstanding students," are among those that will be honored at this year's award dinner hosted by SEED (Society of Ethiopians Established in Diaspora), which is scheduled to take place on May 25th at Georgetown University Hotel & Conference Center in Washington, D.C.
Beginning with its inaugural event held in 1993, SEED has been highlighting the achievements of Ethiopians and friends of Ethiopia who "stand out as role models from among the educators, scientists, artists, religious leaders, high school and university students and community leaders without any preference for education and career category."
Dr. Belay Abegaz, M.D., a cardiologist and founder of CHFE, is being recognized this year for his pioneering contributions to cardio-care for children in Ethiopia. "SEED salutes Dr. Belay Abegaz as an exemplary and outstanding physician and as a role model to so many fellow Ethiopians," the press release noted.
SEED added that it is honoring Menbere Aklilu as a distinguished role model to women in general: "We salute her in admiration of her rise from homelessness to richness through determination and hard work, in appreciation of the positive contributions she has made by exemplifying the higher ideals and standards of our community, in recognition of her inspiring entrepreneurial excellence, as well as community and civic responsibilities, and for representing the Diaspora Community with dignity and sterling character."
Professor Donald N. Levine, Ph.D. will be acknowledged for "his lifelong dedication to preserving the history and culture of Ethiopia and Ethiopians through his writings, in appreciation of his many other positive attributes and the higher esteem he is being held in the Ethiopian community."
Likewise Ambassador Zewde Retta is being featured "for his prolific writings and ability to touch us deeply, for having enriched us intellectually as well as for appealing to our collective conscience to remember and preserve our history."
The SEED 2014 Outstanding Student Honorees include Mahlet Kirubel, Herrana E. Addisu, Luladay Price, Hewan Tilahun and Michael Mekonnen.
—
If You Go:
SEED Annual Award Dinner
SUNDAY, May 25th, 2014 at 6:30pm
Georgetown University Hotel & Conference Center
3800 Reservoir Road, NW
Washington, DC 20057
Phone: 202-687-3200
TICKETS:
$75.00 for adults
$85.00 at the door
$35.00 for children under 12
Contact: 609- 407-0496 or 234 -380-1533
More info at www.ethioseed.org.
Join the conversation on Twitter and Facebook.