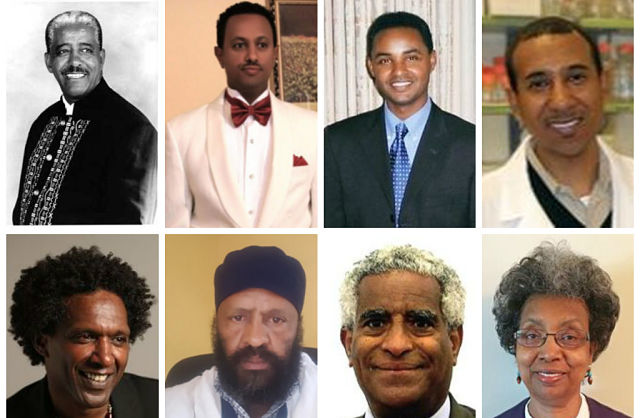 Tadias Magazine
By Tadias Staff
Published: April 24th, 2017
New York (TADIAS) — Society of Ethiopians Established in Diaspora (SEED) marks its 25th anniversary this year with its annual awards dinners ceremony scheduled to take place in Hyattsville, Maryland on May 28th. The line-up of the 2017 honorees include social entrepreneurs, physicians and celebrity artists.
The U.S.-based non-profit organization, which aims to empower the Ethiopian American Diaspora in the areas of "academic excellence, professional development, and community service," announced that its 25th anniversary award recipients include Ted Alemayehu, Founder and Chairman of U.S Doctors for Africa (USDFA); physicians Dr. Ambachew Woreta and Dr. Zaki Sherif, author and poet Lemn Sissay, as well as the founder of Sewasewe Genet Charity and Development Organization (SGCDO), Abba Kefyalew Abera, and musicians Mahamoud Ahmed and Tewodros Kassahun (Teddy Afro).
In addition SEED said it will posthumously recognize the late Dr. Maigenet Shiferaw, founder of the Ethiopian women for Peace, Democracy and Development (EWPD) and co-founder and President of the Center for The Rights of Ethiopian Women (CREW), "as a distinguished scholar, author and our venerated teacher; in appreciation of her lifelong dedication and struggle for human rights and women's rights; in acknowledgement of the rich and positive contributions she has made in the Diaspora Community and legacy she has left behind by exemplifying the highest ideals and standards of our community; in recognition of her inspiring academic excellence and many other positive attributes."
The 2017 SEED Student Honorees are Kirubel Aklilu, Rackeb D. Mered, Teferi D. Tadesse, Yeabesiera D. Tadesse and Ms. Rahel Boghossian (Harvard Law School, Harvard University, Class of 2017).
—
If You Go:
25th ANNUAL SEED AWARDS DINNER
Date: May 28, 2017
College Park Marriot Hotel
3501 University Blvd. E.
Hyattsville, MD 20783
​301-985-7300
www.ethioseed.com
Video: Tilahun Gessesse SEED Award Acceptance Speech — May 28, 2000
Join the conversation on Twitter and Facebook.