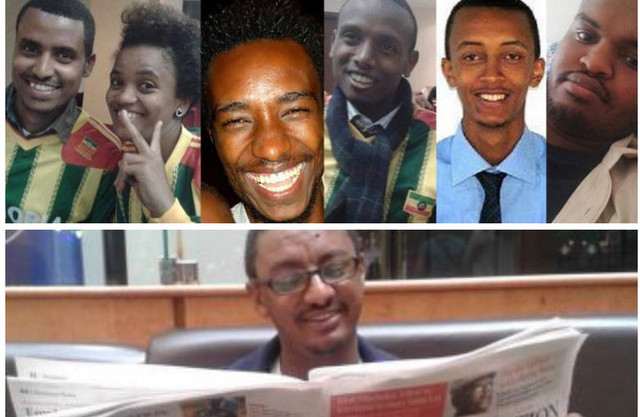 Tadias Magazine
By Tadias Staff
Published: Saturday, April 26th, 2014
New York (TADIAS) — Six members of the independent Ethiopian blogging collective, Zone Nine, were arrested on Friday in Addis Ababa. The police crackdown, Amnesty International said, also targeted freelance journalists and leaders of the opposition Blue Party. Those detained include bloggers Befeqadu Hailu, Atnaf Berahane, Mahlet Fantahun, Zelalem Kiberet, Natnael Feleke, Abel Wabela, and journalist Tesfalem Waldyes as well as friend of the Zone 9 group and freelance journalist Edom Kasaye.
Global Voices Online reported: "News of the arrests first broke on Twitter, where fellow bloggers and social media users voiced support for those arrested and expressed their own fears about what may be to come."
According to Amnesty International: "The Zone 9 group had temporarily suspended their activities over the last six months after what they say was a significant increase in surveillance and harassment of their members. On 23 April the group announced via social media that they were returning to their blogging and activism. The arrests came two days later."
"These arrests appear to be yet another alarming round up of opposition or independent voices" Claire Beston, Ethiopia researcher at Amnesty International, said in a press release. "This is part of a long trend of arrests and harassment of human rights defenders, activists, journalists and political opponents in Ethiopia."
Friends and family members report on social media that their loved ones are now being held at Maekelawi detention center in Addis Ababa. "The detainees are being held incommunicado. Family members of those arrested reportedly went to Maikelawi on the morning of Saturday 26 April, and were told they could leave food for the detainees, but they were not permitted to see them," Amnesty International stated.
Amnesty International's press release also mentions the arrest last month of seven female members of the Blue Party while participating in a run celebrating International Women's Day in the capital, Addis Ababa, and calling for the release of political prisoners. The women were released after ten days in detention.
"With still a year to go before the general elections, the Ethiopian government is closing any remaining holes in its iron grip on freedom of speech, opinion and thought in the country" said Claire Beston.
Matthew Russell, founder of Inner City Press, noted that next week, US Secretary of State John Kerry will visit Addis Ababa. "Will he be raising the issue? We'll see."
—
Related:
Ethiopia: Multiple arrests in major crackdown on government critics (Amnesty.org)
Six Members of Blogging Collective Arrested in Ethiopia (Global Voices)
Join the conversation on Twitter and Facebook.