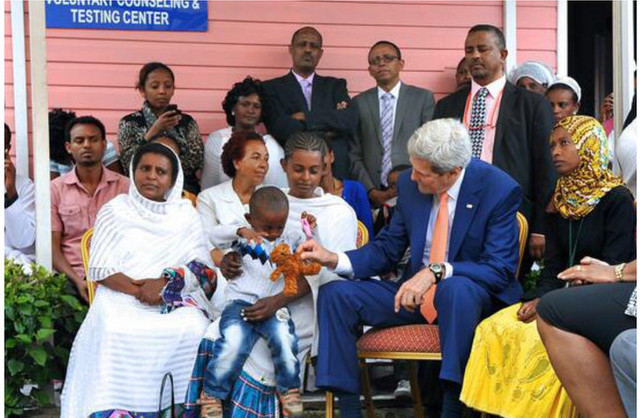 Tadias Magazine
News Update
Thursday, May 1, 2014
New York (TADIAS) –Secretary of State John Kerry delivered the following remarks during a press conference in Addis Ababa, Ethiopia today where he begun a three country tour of Africa that also includes stops in the Democratic Republic of Congo and Angola.
SECRETARY KERRY: Good afternoon, everybody. I'm really pleased to be back in Africa and to be back in Addis Ababa, a city of enormous energy, and in a country that is really changing and on the move. I had a series of very productive meetings this morning with my foreign minister counterparts and African Union counterparts, and also have just concluded a meeting with Prime Minister Hailemariam.
I think it's fair to say that Ethiopia, in terms of its economy and in other ways, is really on the move, and it is a place that is generating enormous energy. All you have to do is drive through Addis, as I have several times in the last hours, and you see the economic activity, you can see the numbers of cranes and construction that is taking place, and it provides a snapshot of the country's rapid development. It is no wonder that Ethiopia is one of the eight African economies that is one of the 10 fastest-growing economies in the world.
The United States remains committed to supporting Ethiopia's growing prosperity, and we do that because strong commercial ties and this rate of development are critical to having shared prosperity, critical to providing opportunity to the broad population, and they also – it helps to provide stability and helps to provide the capacity for Ethiopia to be able to lead in some of the other initiatives that are so critical to stability in the region.
We want to say a special word of commendation to Ethiopia and its leaders for the work that they have done along with AU partners in addressing some of the continent's most difficult problems. As part of the UN's AU mission in Somalia, Ethiopia has helped to liberate towns from al-Shabaab, and they are working diligently to promote reconciliation. They've been a key partner in that effort.
In addition, Ethiopia is also taking a leadership role with respect to IGAD and the efforts to try to resolve the killing and the impending potential of enormous famine and devastation in South Sudan. The unspeakable violence of Sudan really makes the urgency of these kinds of efforts painfully clear. I thank the Prime Minister Hailemariam for the service of Ethiopian troops in Abyei and Darfur, and for working so hard to facilitate a dialogue between the government and rebel forces. That is something we are continuing to work on even right now and in the next few days.
Acts of violence against civilians on both sides in South Sudan are a reminder of the unbelievable capacity for cruelty on this planet when sectarianism, when violence of one tribe or one race against another, is unleashed. We have, all of us, vowed to try to do our best to prevent that kind of violence. And this is precisely the kind of violence that the people of South Sudan fought so hard for so long to try to escape. And the United States and other countries were all deeply involved in the effort to try to help make that happen with the comprehensive peace agreement, with the referendum, with the ultimate independence of the nation. Both President Kiir and Riek Machar need to, each of them, condemn the brutal attacks that are taking place against innocent people, and they need to condemn the perpetrators of this violence. Leadership is needed.
Yesterday, the United Nations commissioner was here, spoke out about the potential of famine. I would echo those warnings, but more so I would even go further and underscore that a kind of personal violence, a personal anger between two leaders should never be permitted to take an entire nation in the direction that South Sudan is currently spiraling downwards.
Those leaders need to do more to facilitate the work of those people who are trying to provide humanitarian assistance, which was part of the agreement back in January – that that assistance should be able to get in. And clearly, we all have a responsibility, whether we live in Africa or come from another country, no matter what our concerns on the planet today, we need to try to prevent the widespread famine that could conceivably flow from the violence that is taking place there now.
Those who are responsible for targeted killings based on ethnicity or nationality have to be brought to justice. And we are actively considering sanctions against those who commit human rights violations and obstruct humanitarian assistance. And we discussed this this morning with each of the foreign ministers and with the AU, and the foreign ministers each agreed that it is important that sanctions be on the table as one of the tools to try to end the impunity and begin to create accountability.
Today's U.S.-AU High-Level Dialogue helped to deepen our partnership and will help to deepen it going forward in coordination with our efforts to tackle some of the continent's most challenging conflicts. The United States is very, very proud to work with the AU in this effort, and we will continue to support the African Union mission in Somalia, as well as the AU's efforts to counter the Lord's Resistance Army, where the LRA-related deaths have declined by 75 percent. That is an effort that we will also continue.
We will also continue to provide counterterrorism assistance to help Nigerian authorities to develop a comprehensive approach to combat Boko Haram, while at the same time respecting civilians and respecting human rights.
And finally, as Ethiopia works to confront the continent's challenges, I made clear to Ethiopian officials that they need to create greater opportunities for citizens to be able to engage with their fellow citizens and with their government by opening up more space for civil society. I shared my concerns about a young Ethiopian blogger that I met last year, Natnail Feleke, who, with eight of his peers, had been imprisoned. And I firmly believe that the work of journalists, whether it's print journalists or in the internet or media of other kinds, it makes societies stronger, makes them more vibrant, and ultimately provides greater stability and greater voice to democracy. To support economic growth for the long term, the free marketplace of ideas matters just as much as free markets. It's a testament to the strength of our friendship with Ethiopia that we can discuss difficult issues, as we do, even when we disagree on one aspect of them or another.
The United States and Ethiopia will continue to work together for a more prosperous Africa where extremism is countered by opportunity and where private sector investment and trade agreements prove that the lives of the African people will be made better through those initiatives; where we will strengthen, broadly, surrounding economies, including the American economy, even as we engage in those efforts.
So we remain committed to our partnership with Ethiopia, with the AU, with Africa, and again, I say it's a great privilege for me to be back here in a region where we have been considerably – where we have been expending a considerable effort and energy over these years, and where we will continue to stay engaged.
I'd be delighted to answer a few questions. I'm not sure how that's – are you going to do that?
MS. PSAKI: Sure. I'll follow up for you. The first question will be from Scott Stearns of VOA.
SECRETARY KERRY: Make sure we get some local.
MS. PSAKI: Mm-hmm.
QUESTION: Mr. Secretary, on the issue of South Sudan, with what's going on there and what can be done about it, with civilians being targeted based on their ethnicity, United Nations says the international community must take all possible measures to protect populations from another Rwanda. Does South Sudan approach genocide, and what can be done about it? Troops and sanctions, those seem to be the two things you've been discussing today. How can you help integrate AU troops into a UN operation in South Sudan so you don't have two lines of security?
And on sanctions, United States has a mechanism in place, as you said, so why not on your own or on U.S. own, sanction Salva Kiir and Riek Machar today, if you are reflecting on their personal anger? And did you receive any word of cooperation from the Kenyans, the Ugandans, and the Ethiopians today that they would join you in those sanctions?
SECRETARY KERRY: Well, let me answer it. With respect to the question of genocide, there are very disturbing leading indicators of the kind of ethnic tribal targeted nationalistic killings taking place that raise serious questions, and were they to continue in the way that they have been going could really present a very serious challenge to the international community with respect to the question of genocide. It is our hope that that can be avoided. It is our hope that in these next days, literally, we can move more rapidly to put people on the ground who could begin to make a difference.
Now you said, you asked about the question of both troops and sanctions as being the two tools – there's a third tool, and I'll talk about each of the tools. We still hope that visits with serious discussion, with clear implications to the leadership about what is at stake and what the repercussions may be if they do not begin to move in a different direction, that that kind of effort might be able to make a difference. No promises – might.
This has been very frustrating. I had many conversations with both Riek Machar and President Kiir during the period of December and January when this was spinning up into the conflict it is today, and I was frankly disappointed by both individuals' responses at that period in time. Now since then there have been many interlocutors and many efforts. The IGAD effort, which we've been engaged in, UN, other high level visits, and we are very hopeful that the message is finally getting through.
President Kiir, as you know, released four remaining detainees in the last days. We are hoping that that now opens up the possibility of a mediation and dialogue that could take place anywhere in the next few days, and that that could have an impact on the outcome.
But with respect to the fundamentals, I remain convinced and each of my foreign minister counterparts today – from Uganda, from Kenya, and from here in Ethiopia – agreed that the greatest single difference will be moving rapidly with UN Security Council imprimatur of support to get forces on the ground who could begin to separate people and provide safety and security. That's imperative.
Simultaneously, we believe that the possibility of sanctions also remains a reality, and the simple answer to your question is we are absolutely prepared to move on our own. We may well move on our own. But each of the foreign ministers today accepted the responsibility for also doing sanctions, and each agreed that it is, in fact, important that the regional players engage in that – in unison, together, and I believe that they will be considering that over the course of these next days also.
So it's our hope that we can reach the different individuals who have been responsible for this violence. Some of it, I think you all know, it comes from certain independent generals who have their own agenda. And so it's not just reaching Kiir and Machar, it's also reaching those other players. But the place to start is the place where it started and that is with the former vice president, with the current president of South Sudan.
I will also draw a distinction. The current president of South Sudan is the elected, constitutional president of a country, and Mr. Machar is a rebel who is trying to unconstitutionally take power by force. And there is a clear distinction. There is no equivalency between the two as far as we are concerned. And we talked about that today, and I think Mr. Machar needs to think clearly about that, particularly in the wake of Bentiu and Bor, and what the implications may be for the future.
So this is a time to get even more serious, even more focused; there's much greater urgency, and that's why I'm here and that's what President Obama wants all of us to try to do in these next days.
MS. PSAKI: The next question is from Brooke Worku from Ethiopian TV.
QUESTION: Thank you very much, Mr. Secretary. You mentioned earlier that you have talked with the prime minister of Ethiopia. What were the issues that you discussed with the prime minister? And you also stated that there is lots of economic activity happening in the city. Will the U.S. provide any support to Ethiopia to further (inaudible) those economic activities? Thank you.
SECRETARY KERRY: Well, the United States is already providing – we're investing hundreds of millions of dollars here in Ethiopia, and we've been deeply involved. This morning I visited the Gandhi Memorial Hospital where we have a major division of the hospital, which is dedicated to dealing with HIV/AIDS, and that has been an enormously successful program. As I said today, in 2004, there were 35 – there were about what – 15,000 young people receiving anti-retroviral drugs here in Ethiopia. Now there are 335,000. In 2004, there were 2.7 million people who were infected with HIV/AIDS. Now that's been cut by more than a third and it's going downwards. Now we are looking at the potential of children whose parents are HIV-positive, that these – that the children can be born HIV-free. So we've made enormous advances, and that's an American-Ethiopian cooperative effort through PEPFAR. In addition, we are engaged in economic development initiatives, and we will continue to do so.
We discussed all issues today, a broad cross-section of issues about the region, about the AU, about Ethiopia, about South Sudan, about Somalia, about terrorism. And I think we had a very in-depth discussion including about the question of the constitution and the political playing field, the elections that will come up next year, and so forth.
MS. PSAKI: The next question will be from Anne Gearan of The Washington Post.
QUESTION: Mr. Secretary, your end-of-April deadline for an Israeli-Palestinian outline peace deal has passed and talks, I guess, are at best now on hiatus. In hindsight, would you have done anything differently, and do you think the parties were simply not ready to make the hard choices you asked of them? And looking forward, is now the time to put a comprehensive American peace plan on the table in lieu of a negotiated one that didn't come to pass over the last nine months?
SECRETARY KERRY: Well, Anne, let me just say first of all that, to begin with, the date of April 29th became irrelevant several weeks ago. And it became completely irrelevant when the talks were suspended. So the combination of the appeal to 15 different treaties when – at the time when the prisoners exchange did not take place, then combined with the reconciliation unilaterally with Hamas, which came as a complete and total unannounced event, without any heads-up, so to speak, at the moment of important negotiations, that resulted, obviously, in the suspension which we're living with now, which is the state of play and has been for the last days.
That said, both parties still indicate that they feel it's important to negotiate and want to find a way to negotiate. So we believe the best thing to do right now is pause, take a hard look at these things, and find out what is possible and what is not possible in the days ahead. As I have consistently said, I think peace is to the benefit of both parties – benefit of Israel, and benefit of the Palestinians. Both leaders took serious steps in order to engage in this discussion. What has not been laid out publicly and what I will do at some appropriate moment of time is make clear to everybody the progress that was made. These eight months, eight months plus were not without significant progress in certain areas. And I don't think anybody wants to lose that progress.
So I personally remain convinced that as each sort of work through the reasons that things began to become more difficult in the final hours, there may be quiet ways within which to begin to work on next steps. But one thing I know, the fundamentals of this conflict will not go away, and importantly, I believe both parties have a very real interest in wanting to try to find a way to make progress.
So it's time for pause, but it's also time to be reflective about the ways in which one might be able to find a common ground even out of these difficulties.
MS. PSAKI: Thank you, everyone.
SECRETARY KERRY: Give this gentleman – I want to give him a shot.
MS. PSAKI: Okay, go ahead.
SECRETARY KERRY: I know he was very impatient. I'm going to –
MS. PSAKI: He's the boss.
SECRETARY KERRY: I want to make sure we get a fair distribution here.
QUESTION: Thank you, thank you. Yeah. Well, I have only two questions for you, sir.
SECRETARY KERRY: I may have invited the hardest question of the day now. (Laughter.) But one question. Fair enough?
QUESTION: Okay.
SECRETARY KERRY:Okay.
QUESTION: So let me choose. You have raised both issues of Natnail Feleke, who is a blogger (inaudible) –
SECRETARY KERRY: Yeah.
QUESTION: — (inaudible). So these things are repeating very much from the times of Eskinder Nega and others to our young brothers. So is it lip service, or are you seriously concerned about the arrests? Because these guys are social activists using the social media, they were advocating freedom, democracy, and participation as a citizen. So we really demand a genuine answer from you. Thank you.
SECRETARY KERRY: Well, when I stand up in public, and I say something, I try to be serious about it, and I think the fact that I'm doing that is serious. And when I raised him by name in my comments today, I am raising a very legitimate concern. We are concerned about any imprisoned journalist here or anywhere else. And we raise this issue elsewhere. And we believe that it's very important that the full measure of the constitution be implemented and that we shouldn't use the Anti-Terrorism Proclamations as mechanisms to be able to curb the free exchange of ideas. And in my meetings with all public officials, I will always press the interests of the political space being opened up and being honored. And so we have previously called for the release of these individuals, and that is the policy of our government, and it's a serious policy.
MS. PSAKI: Thank you, everyone.
SECRETARY KERRY: Thank you all very, very much. Appreciate it. Good to be with you.
Source: U.S. Department of State
—
Related:
Kerry Remarks on South Sudan With Ethiopian Foreign Minister Tedros Adhanom
Kerry Urges Press Freedoms for Ethiopia (AFP)
US Secretary of State @JohnKerry speaking in #Ethiopia on the press: "the free market place of ideas matters just as much as free markets"

— BBC Africa (@BBCAfrica) May 1, 2014
US Secretary of State @johnkerry speaking in #Ethiopia about journalism: "the work of journalists… makes societies stronger".

— BBC Africa (@BBCAfrica) May 1, 2014
Join the conversation on Twitter and Facebook.