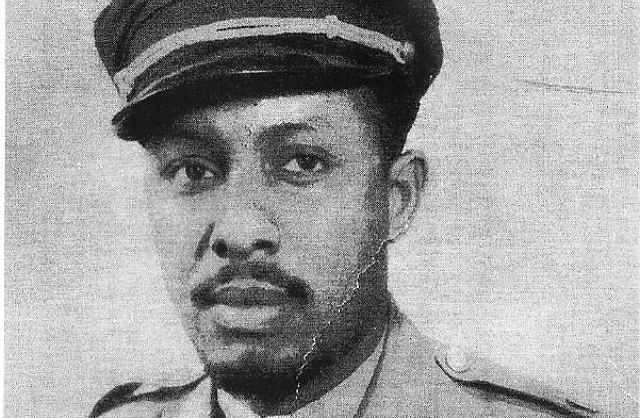 Tadias Magazine
By Taias Staff
Published: Friday, May 1st, 2015
New York (TADIAS) — Ethiopia will host the first annual national commemoration of American pilot Col. John C. Robinson, who was nicknamed "The Brown Condor" for his heroic commanding of the Ethiopian Air Force during the war against Fascist Italy. Robinson will be honored on May 5, 2015 on Ethiopian Patriots' Day at Victory Square in Addis Ababa.
"Col. John C. Robinson was an inspiring African American aviation pioneer and a brave Ethiopian war hero," said the International Council for the Commemoration of Col. John C. Robinson in a press release. "He was instrumental in the formation of what was to become the Tuskegee Airmen of WWII fame, led Ethiopian Air Forces against Italian aggression, and trained numerous military and civilian pilots for Ethiopia. Among his many accomplishments, he established the first African American owned airline and pilot school in Chicago, USA, and founded the American Institute School in Addis Ababa, Ethiopia. After sacrificing his life for Ethiopia, Col. Robinson is finally receiving his due recognition." Robinson died in a plane crash in Ethiopia in 1954. He is buried at Gullele cemetery in Addis Ababa.
Ethiopian historian Ayele Bekerie writes: "When the Italo-Ethiopian War erupted, [Robinson] left his family and went to Ethiopia to fight alongside the Ethiopians. According to William R. Scott, who conducted thorough research in documenting the life and accomplishments of John Robinson, wrote about Robinson's ability to overcome racial barriers to go to an aviation school in the United States. In Ethiopia, Robinson served as a courier between Haile Selassie and his army commanders in the war zone."
Expected guests at the event include Mulatu Teshome, President of Ethiopia, and former President of Ethiopia Girma W/Giorgis, as well as Abune Mathias who will provide the benediction.
The Press release added: International guest and official representatives of the embassies as well as thousands of Ethiopians will witness the unveiling of a bust, in the likeness of this great American hero, who dedicated his life to defending Ethiopia during the Ethio-Italian War of 1935, and preparing it to achieve the commercial status it receives today in the airline industry. Other activities will take place, including the unveiling of a mural, by Ethiopian artist Ato Fasil Dawit, depicting the life of Col. Robinson that is planned to be displayed at the Bole International Airport. Throughout the week of May 3rd, several lunches and dinners are planned with members of the Council, US and other embassy personnel and guests. Future plans include official recognition from the US government for his lifetime achievements to American aviation.
Below is a text of the remarks made by U.S. Ambassador to Ethiopia Patricia M. Haslach at the Dedication of a Reading Garden in Honor of John Robinson on February 19, 2015 at the U.S. Embassy, Addis Ababa.
As Prepared for Delivery on February 19, 2015 at the U.S. Embassy, Addis Ababa
Your Excellency Girma Wolde Giorgis,
Former President of the Federal Democratic Republic of Ethiopia,
Mr. Henok Tefera, Vice President for Strategic Communications of Ethiopian Airlines
Invited guests,
Ladies and gentlemen,
It is with great pleasure that the Embassy of the United States of America recognizes the contributions of U.S. citizen John Charles Robinson who came to the aid of Ethiopia during its time of need in the struggle against fascist occupation in the 1930's, and who again returned to a peaceful and independent Ethiopia following World War II to help establish a professional Ethiopian Air Force and Ethiopian Airlines.
John Charles Robinson was born in 1903 in Florida and grew up in a very segregated South. In 1910, when John was 7, he saw his first aircraft, a float plane that taxied to the beach. John Robinson knew that he wanted one day to fly an airplane, and he set out to overcome the obstacle of segregation. He did this by learning to excel at school and later at work, to never let disappointments overcome his determination and to wear his successes with modesty.
He enrolled in the Tuskegee Institute and learned to become an automobile mechanic. He decided there would be better job opportunities in the North, so he moved to Detroit where he earned a reputation as an exceptionally good mechanic. Moving to Chicago, he wanted to enroll in the Curtiss-Wright Aviation School, but black students were not welcome. Although he had a full-time job in an auto garage, he signed on as a nighttime janitor in a Curtiss-Wright classroom, absorbing the instructor's ground-school lectures. The instructor realized how determined John was and persuaded the school to let him enroll.
After graduation, John went on to form a small flying school, encouraging young black men to enroll. This fact came to the attention of Haile Selassie, Emperor of Ethiopia, who was working to modernize his country. He invited Robinson to come to Ethiopia to head his Air Force. Robinson came to Ethiopia and built a cadre of black pilots and ground crews and was named the Commander of the Imperial Ethiopian Air Force.
John Robinson joined Ethiopia in its fight against fascist Italy, but, ultimately, the Italians conquered Ethiopia, if only temporarily. Haile Selassie escaped to England and John Robinson to America. Back home, his aviation school thrived. Tuskegee, to which he had proposed an aircraft school in the 1930s, finally had one and turned out hundreds of who became the Tuskegee Airmen, who gained fame in World War II. After the war, Haile Selassie invited Robinson back to Ethiopia, first to rebuild his Air Force, then to create Ethiopian Airlines. As with everything else, this remarkable man performed these jobs with determination and thoroughness.
In the history of U.S.-Ethiopian relations, beginning with the establishment of diplomatic relations in 1903, there have been many individuals from both our countries who have brought our nations together in common endeavors for our mutual benefit. John Robinson's story stands out as a remarkable example of the individual bonds between the peoples of our two countries.
Today, we honor the spirit of this bond between the Ethiopian and American peoples by dedicating a Reading Garden in memory of Col. John Robinson who gave his life for Ethiopia 60 years ago. The establishment of this reading garden at the U.S. Embassy is part of our month long celebration of Black History month, and will commemorate the extraordinary contributions of Col. Robinson, who lost his life in the service to the Ethiopia on March 26, 1954.
We are indebted to and appreciate the contributions of John C. Robinson, and commit to honoring his name and memory so that future generations may aspire to follow in his footsteps in strengthening the partnership between our two nations.
—
Related:
Ethiopian & African American Relations: The Case of Melaku Bayen & John Robinson
The Man Called Brown Condor: The Forgotten History of an African American Fighter Pilot
Join the conversation on Twitter and Facebook.