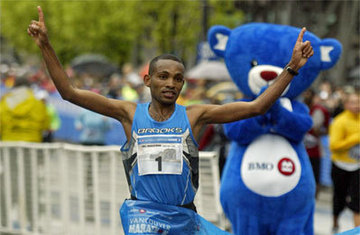 Above: Kassahun Kabiso, 23, is from Awassa, a lakeshore
town about 130 miles south of Addis Ababa. He left behind 16
brothers and sisters in 2002, and eventually ended up at the
"Mecca for African runners in New York: the Westchester Track
Club."
Pittsburgh Tribune-Review
By Karen Price and Matthew Santoni
Monday, May 4, 2009
Ethiopian native triumphs; local grad women's No. 1
in Pittsburgh marathon
They kept pace through the South Side, up Forbes Hill to Oakland, through Shadyside, Homewood and into East Liberty. Even at mile 25 of the 26.2-mile Dick's Sporting Goods Pittsburgh Marathon, Ethiopian native Kassahun Kabiso and Jim Jurcevich of Columbus, Ohio, were still side-by-side, running at a blistering pace of 5:27 minutes per mile past thousands of spectators. With just under a mile left, Kabiso widened a gap to beat Jurcevich by just three seconds with a time of 2:22:51 in the 20th running of the marathon and first since 2003. Read more.
Related from Tadias Archives:
Ethio New Yorkers eye NYC Marathon
Tadias Magazine
By Tadias Staff
Last Updated on May 4, 2009
New York – Kassahun Kabiso (above), the top New Yorker to finish the race in 2003, 2004, and 2006, participated in the 38th ING New York City Marathon on November 4, 2007.
The race through New York's five boroughs (Staten Island, Brooklyn, Queens, the Bronx, and Manhattan), unites dozens of culturally and ethnically diverse neighborhoods, passing over five bridges, and finishing up at Tavern on the Green in Central Park.
Kabiso, 23, who was profiled by the New York Times four years ago, is from Awassa, a lakeshore town about 130 miles south of Addis Ababa. He left behind 16 brothers and sisters in 2002, and eventually ended up at the "Mecca for African runners in New York: the Westchester Track Club." His fellow Ethio-New Yorkers and running mates from the Bronx include, Worku Beyi, 20, and Demesse Tefera, 24.
"The Africans come, they arrive, they fall from the sky," Coach Mike Barnow, founder of the club, told the New York Times.
"Who knows how these runners get here, but they get here."