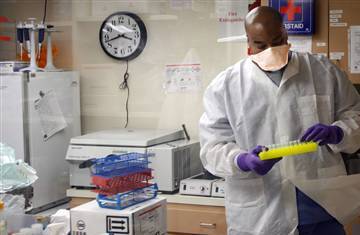 Above: A microbiologist tests samples for Influenza
A (H1N1), also called swine flu, at the Dallas Department of
Health and Human Services laboratory in Dallas on May 1,
2009. (Reuters).
msnbc.com staff and news service reports
MAY 5, 2009
Texas state health officials have confirmed the first death of a Texas resident with swine flu. Few details have been released, but officials say the woman was in her 30s and lived in Cameron County, along the U.S.-Mexico border, and had other, chronic health conditions. The Texas Department of State Health Services said she died earlier this week. Read more.