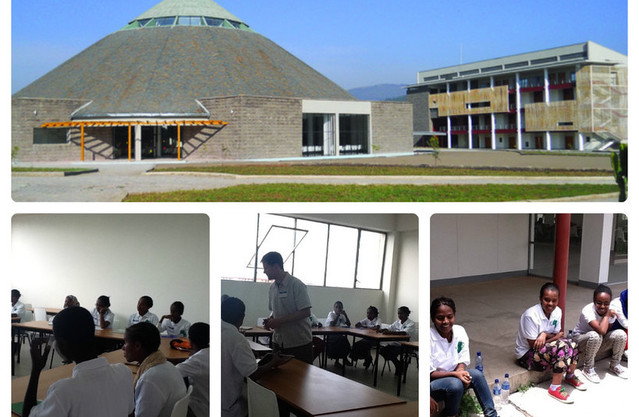 Tadias Magazine
By Tadias Staff
Published: Sunday, May 5, 2013
New York (TADIAS) – The International Leadership Academy of Ethiopia (ILAE), which opens in September 2013 on the campus of Hope University in Addis Ababa, began as a vision of Ethiopian American social entrepreneurs living in the Seattle, Washington area, including Haddis Desta Tadesse, the Country Representative for the Gates Foundation in Ethiopia. "We had found success in the U.S. and like many Ethiopians, we still have strong ties with and care deeply about the future of Ethiopia," Haddis said in a recent interview with Tadias Magazine. "We admire how developed countries harness their land, labor, capital and infrastructure."
Haddis added: "We also admire Ethiopia's quest for prosperity and recognize the role that strong, capable leaders play in making that happen. We therefore thought that one contribution we could make to Ethiopia would be to establish a school for the academically talented girls and boys from around the country, and offer them an education that would prepare them in leadership skills equal to the best schools in the world."
To this end, Haddis said, the group has launched a preparatory program for 20 students who are attending weekend and summer classes to prepare them for high school.
Below is our Q & A with Haddis Tadesse:

Haddis D. Tadesse (Photo courtesy Bill & Melinda Gates Foundation)
TADIAS: We understand that the school is one of the first of its kind to be set up in Ethiopia. Please tell us about the challenges and opportunities facing the new leadership academy.
Haddis Tadesse: We may be unique in today's Ethiopian environment but the concept is not new to Ethiopia. General Wingate Secondary School played a similar role and produced many leaders in various disciplines. We also understand there is one other school in Ethiopia currently that targets gifted students. From what we know, we believe that our approach is unique in Ethiopia. While using the Ethiopian curriculum as a base and preparing students for the national exams, our curriculum is developed by experts taking best practices from around the world, introducing academic rigor, critical thinking at many junctures, responsibility for the environment through service programs both on and off campus, a strong sense of community within the student body based on collaboration and developing leadership skills. So far, the students seem ready and receptive to this program, as are their parents. As students will come from various school systems across the country and different proficiency levels, development and skills, they will require individual attention. That requires hiring capable teachers who know how to educate and nurture very smart kids and that requires capital to execute effectively. So, the financial burden will be our challenge.
TADIAS: How does admission to the school work?
Haddis: Similar to most selective, high quality independent schools around the world, admission is based on various criteria, including the student's academic record, recommendations and interviews which examines the overall capacity and potential of the student. We have experts who are helping us with this effort including people who helped establish the Oprah Winfrey Leadership Academy for Girls in South Africa.
TADIAS: Is it tuition based? If so, are there scholarship opportunities available for those who cannot afford it?
Haddis: The majority of our students would come from poor environments and they will not pay any tuition. However, we will have some paying students from families who can afford to pay and seek high quality education as well as from other country nationals who reside in Ethiopia.
TADIAS: Does the school have a relationship with other institutions of higher learning that would allow the students to continue their education after they graduate from ILAE?
Haddis: We have a relationship in Ethiopia with Hope University College, as we share their campus, facilities and to some extent will be exchanging teachers, but also have a primary relationship with the Northwest School in Seattle, an established, prestigious independent school. We will be having student exchanges through technology, and through them, will also have partnerships in Spain, France, China, Taiwan and El Salvador. In addition, we have a relationship with the University of Washington and Cascadia Community College. But our goal is not to send our scholars abroad. Our hope is that they will enter college in Ethiopia and other great universities in Africa and return to Ethiopia in positions of leadership and write a new chapter in the long history of the country.
TADIAS: What's your vision for the academy five years from now?
Haddis: Five years from now we will have graduated our first class. We will most likely be on our own campus with dormitories, and have a student population from around the country. Every year after that, we hope to graduate students who will become CEOs of major business, political and social leaders, noble prize winner scientists, and many others.
TADIAS: Is there anything else that you would like to share with our audience?
Haddis: We are profoundly moved by the potential of these talented students and happy that we can affect the lives of at least a few people in Ethiopia. We deeply appreciate the generous support we have received to date. I also want to thank Tadias for your interest and support. I am a big fan.
—
You can learn more about The International Leadership Academy of Ethiopia at www.ilacademy.org.

—
Join the conversation on Twitter and Facebook.