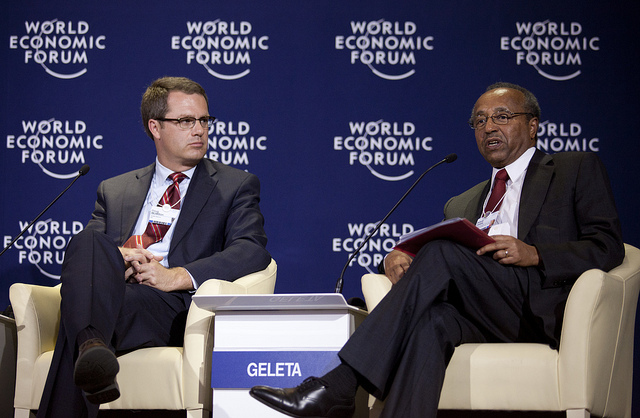 Opinion
By Bekele Geleta
Published: 10 May 2012
When I was a young boy growing up in a rural village in western Ethiopia, famine gripped my country. In 1984, when I became the secretary-general of the Ethiopian Red Cross, we faced the worst famine our country had ever seen. So much so that our staff and volunteers had to increase support to reach over one million starving people.
Today, as I am preparing to co-chair the World Economic Forum on Africa in Addis Ababa, parts of the continent, such as the Horn of Africa and the countries of the Sahel, are again facing potentially catastrophic food crises. We need to ask why.
During the 2007-2008 global food crisis, the system failed because no one predicted it: possibly because 2008 was, in reality, a record year for food production. Then, in late 2010, the Kenya Red Cross flagged a looming food crisis in the Horn of Africa. Not many listened. In 2011, the World Food Programme and the International Food Policy Research Institute confirmed that Africa was again spiralling into the cycle of drought, high food prices and famine. In June of that year the UN Food and Agricultural Organisation moved and famine was once again declared. But the international community did not respond quickly enough. There was an apparent lack of action – some believe that funds had already been committed elsewhere; some laid blame on a lack of media focus and many cited the complex layers of socio-political factors that are rarely considered or discussed openly. For example, a lack of food reserves were part of the problem – Tanzania and Ethiopia barred the export of maize.
Ethiopia, like many African countries, has an economy which is largely based on agriculture, representing around 40 percent of GDP and the livelihoods of 77 percent of the population, thus the lives of many are dependent on rainfall. Our lands can be arid and we often face food shortages when the harvests fail. Small-scale farmers are often the hardest hit and the safety nets to protect them are still limited. More broadly, across Africa, the key issue of access to finance has not been addressed – 80 percent of the population in the agricultural sector is not served by the private capital market and so depends on official development assistance. Policies to ensure equal opportunities for global trade are non-existent and commodity trading is creating price instability and food shortages despite record production levels.
The point, of course, is that food security in Africa needs a long-term strategy and a multi-sector approach. By building strong communities we create strong economies and ultimately, contribute to political stability. By creating sustainable livelihoods in agriculture and other sectors we can create sustainable economies and the reverse is equally true.
It is my hope that the World Economic Forum on Africa will provide an important opportunity for governments and key decision-makers to think creatively, and engage with and form partnerships with the African business, corporate and humanitarian sector. Greater investment in seeds, tools and the latest farming and irrigation technology would do a great deal more in the long-run than sporadic injections of emergency funding when the crops fail. We need to break the seemingly endless cycle of hunger, suffering and dependence across the continent by encouraging greater investment in our infrastructure, schools, healthcare, agricultural sectors and small businesses. The days of quick fixes are over and we all need to pull together for the sake of future generations.
Potential investors at the World Economic Forum on Africa should be especially mindful that investment in good, solid infrastructure can greatly accelerate national prosperity, provide a boost to civil society, and push forward reforms across the continent. Indeed, this year's historical gathering of global leaders and captains of industry should not just be viewed as an opportunity for the private sector and for individuals to make gains, but to also look at the role they can play in the development of people and communities. Everyone gains from prosperous, healthy and self-reliant populations.
Ethiopia is a good example. Slowly but surely it is starting to be viewed through a different lens. The promotion of our country as a land of promise and opportunity rather than one of misfortune and suffering will encourage much-needed investment, and inspire Ethiopia's youth to throw off the shackles of the past and stride confidently into global business and political arenas. As one of the fastest growing non-oil economies in Africa, with a nationwide healthcare system that is cited as a model for emulation, our goal now should be to help lift our own people out of poverty and support development across Africa.
This is an exciting chapter in my life's story and as I take part in this historic meeting in the country of my birth I believe more than ever in Africa's potential to shape its own transformation.
—-
Source: International Federation of Red Cross and Red Crescent Societies.
Africa's Transformation on Display at World Economic Forum (VOA)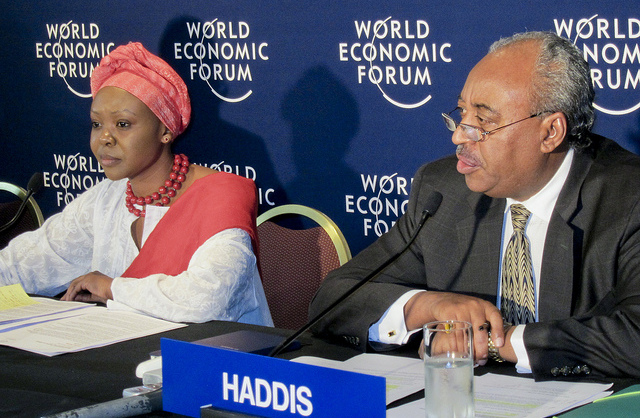 Elsie Kanza, Director for Africa World Economic Forum, and Mekonnen Haddis, Chief Advisor of the Deputy Prime Minister of Ethiopia, at World Economic Forum on Africa pre-meeting press conference held in Addis Ababa, Ethiopia, May 7th, 2012. (Photo courtesy of World Economic Forum)
Peter Heinlein | Addis Ababa
May 10th, 2012
The pace of change across Africa may be about to accelerate, driven by advances in technology that are just breaking onto the scene. The World Economic Forum on Africa in Addis Ababa provides a peek at the coming transformation.
Africa's big guns attended the forum. Seven heads of state were at the top of a long list of luminaries such as former United Nations Secretary-General Kofi Annan.
But the big ideas were coming from relative unknowns, names like Ory Okolloh, Bright Simons and Omobola Johnson, who were featured speakers at a session on Africa's innovators.
Young developers driving change
Okolloh, policy manager for Google South Africa, explained what Google is doing with a group she called "young developers."
"We have set up something called Google Tech User Groups in more than 30 countries like DRC [Democratic Republic of Congo], Cote d'Ivoire [Ivory Coast]. Establishing a footprint, and giving these developers who are doing what they were doing anyway, but without the resources, without some of the skills around how to improve an application for instance, or to better improve a user interface [or] how to get an app to market," said Okolloh.
Bright Simons is president of Mpedigree Network in Ghana. Concerned about the deaths of 2,000 people a day from fake medical products, his firm came up with a way to help consumers know that the medicines they buy are genuine.
"We've been trying in about six countries in Africa to create a mechanism where manufacturers and distributors of medicine can implant a unique ID, identification tags on each pack of medicine, so when the consumer buys the medicine, that comes with a free text message or a free MMS, using a cameraphone to verify instantly whether the particular medicine they are holding is likely to kill them or save their lives," said Simons.
Major wave of innovation on horizon
Omobola Johnson is Nigeria's minister of communications technology. She said her government is working with the tech giants to allow people with good ideas the chance to do great things.
"It's the responsibility of us as policy makers to look at, 'How do we create that environment that allows those innovators to thrive and succeed?' Google is working with us, creating islands of sanity where people can think, and taking ideas into reality and commercialization," she said.
Okolloh said the online world is helping to break down social barriers that have prevented some Africans from achieving success.
"It frees people from waiting for someone to make things happen for them, which has been a big challenge for young people especially. And, that's why they're gravitating to technology so much," she said. "It's the one space where you don't have to come from the right family, or the right tribe, or have the right connection to make it. And it's an area old people don't understand, so they can't dominate it."
Okolloh admits that, as a woman, she also loves technology because it neutralizes gender stereotypes.
"I'm not sure I'd be as successful as I am as a woman in a profession other than in technology. Because it tends to be a bit neutral. If you have the tools, if you can code, it's a lot more sort of merit, and recognizes talent."
These innovators say that in as little as five years, a combination of fresh ideas and demographic imperatives will begin to revolutionize Africa. As several participants at the economic forum noted, half of the continent's population is under 30, and they are demanding change.
—-
Related
Ethiopia's Meles Blames African Corruption on Foreign Investors (VOA)