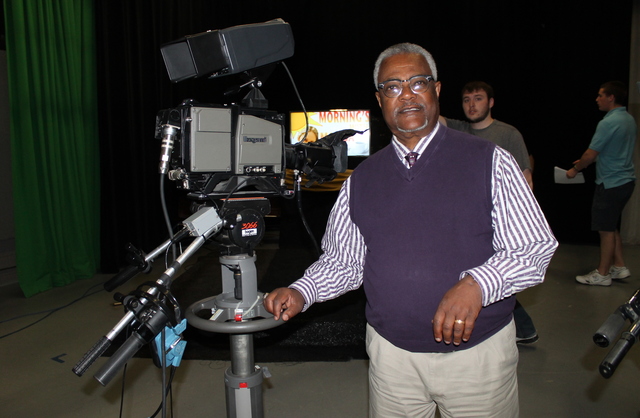 Tadias Magazine
By Tadias Staff
Updated: Friday, May 10, 2013
New York (TADIAS) – Last month the Center for Faculty Excellence at Ithaca College in upstate New York announced the recipients of the 2013 Faculty Excellence Awards, including Professor Gossa Tsegaye who has taught at the Department of Television and Radio for more than two decades. The accolade recognizes faculty members for outstanding work in the areas of teaching, scholarship, and service.
"I am very honored to receive the award because in my field of work it's equivalent to the Oscars in academia," Professor Gossa said in a recent interview with Tadias Magazine. "It's always wonderful to be recognized by your colleagues."
The gifted teacher, whose former students include David Muir, an Emmy award-winning anchor and correspondent for ABC News in New York, teaches media production at Ithaca College and has produced over 80 documentaries including a highlight of the 1969 Black students' uprising at Cornell University, the homeless community in Ithaca, salt mine workers at Cayuga Lake, the Amish Community of Western New York, and Gossa's favorite: Smile in the Wind, which explores the story of migrant labor in the United States.
Professor Gossa, who was born and raised in Addis Ababa and came to the United States as a high school student in 1970, said he developed his passion for broadcasting while growing up in Ethiopia where he had his own radio show in secondary school.
"I went to Teferi Mekonnen and I was actively involved in the media program," he said.
While he was in high school Professor Gossa said he became a guest host on Ethiopian TV for a variety music show called Hibret Terit. "The regular host had traveled to Germany for a six-month training program and they were looking for someone to fill the position," he said. "My teacher encouraged me to apply." He added: "It was a great experience. Plus, I was getting paid 12 birr and 50 cents per episode. At the time, my friend, that was a lot of money for a 16-year-old."
In America Gossa went on to earn a bachelor's degree in Television and Radio Production from Ithaca College and a masters in Communication from Cornell University. As an undergraduate he had brief gig with BBC's Good Morning Africa while spending a semester abroad in London.
Today, Professor Gossa, who lives in Ithaca with his wife and 13-year-old daughter Nile, said his primary focus is teaching students how to write, direct, and produce in-depth documentaries for a television audience.
"The advent of social media has completely changed the landscape and the way we produce, deliver, receive and process information," Professor Gossa said. "Increasingly media professionals are relying on text-messaging, Twitter and Facebook for breaking news coverage and often getting it wrong."
"I am a traditionalist when it comes to teaching," he added. "Because ultimately, how to write well and tell a story accurately matters. And the responsibility in construction of those images are important."
We congratulate Professor Gossa Tsegaye on his accomplishments.
—
To learn more about the Television-Radio program at Ithaca College, please visit: www.ithaca.edu.
Join the conversation on Twitter and Facebook.