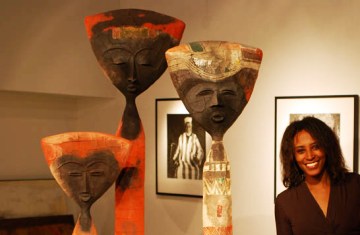 Tadias Magazine
Art Talk
May 11, 2007
New York - Born in 1968, in Aroussi, a rural village in Ethiopia, Etiyé Dimma Poulsen was orphaned at age two. Adopted by a Danish friend of the family, Gunnar Poulsen, Etiyé Poulsen's turbulent childhood led her through Ethiopia, Tanzania, Kenya, and finally to Denmark. As a remedy for the constant uprooting and difficulties of communication that characterized her childhood, she began to paint at the age of fourteen. When no other alternative existed, painting became her expressive outlet. Poulsen studied art and art history in Denmark for two years. At 22, she traveled to France to live with partner and fellow artist Michel Moglia. Inspired by Moglia, Poulsen began sculpting in ceramics to once again communicate her worldview and emotions. In 1993, she relocated her studio to Antwerp, Belgium, where she presently lives and works.
Her elegant sculpture suggests lyric elisions and manipulation of the commonplace, yielding extraordinary and personal perceptions. Simultaneously balanced between the traditional and the modern, they evince refined sensibilities that explore new aesthetic territory derived from her travels to varied cultural arenas and an awareness of the formalist sculpture sources involved with the nature of the material she uses, including it's cultural connections. The body of her works has the force of a determined idea. They are so profoundly personal to the artist that they all but command an equally personal response. Totemic, elongated and possessing a quiet dignity with detailed facial expressions and delicately glazed bodies, the figures evolve out of a complex process in which clay is put on an iron mesh armature and then painted before it goes through the firing process. Chance also plays an important role during the firing process and accepted as a natural part of creation by the artist. This allows for the formation of cracks which give the works their distinct characteristics, a unity of paint treatment and over-all tonalities.
Poulsen's works have been exhibited in Africa, Europe and the US including 2000 Dakar Biennale, Senegal; 2002 Alliance Francaise, Addis Ababa, Ethiopia; 2003 Museum of African Art, Smithsonian Institution, Washington DC, 2004, Museum of World Culture, Goteborg, Sweden, 2006, Skoto Gallery, New York.
She is also represented in several public and private collections such as The Herbert F. Johnson Museum, Cornell University, Ithaca, New York, Museum of African Art, Washington DC, Jean Paul Blachere Foundation, France and The Hans Bogatzke Collection of Contemporary African Art, Germany.
Defining herself as a cultural hybrid, Poulsen has always been drawn to African art and aesthetics. She attributes this attraction to an unconscious cultural memory. Consciously, she uses Ethiopian art as a tool in her creative process. She rejects the "primitive" stigmatization of artists of African descent and views it as a barrier to her own artistic expression. When language barriers grew too great, Etiye's paintings and sculptures spoke for her. The works of Etiyé Dimma Poulsen, she stresses, are the embodiment of her vision and emotions which she attempts to communicate to the world.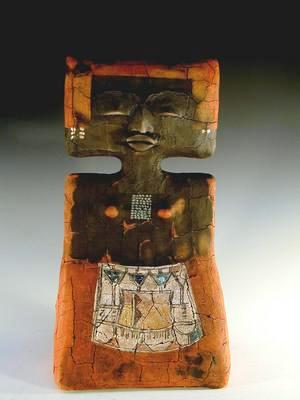 Aztec Woman, 2005, mixed media, 23x10x4 inches.
Source: Skoto Gallery. Working around Archetypes: New Sculptures by Etiye Dimma Poulsen